I have been think­ing a lot about tablets and how they are mak­ing our lives eas­ier and more pro­duc­tive.  For me, the answer is yes and no.
I recently dis­cov­ered a newer com­pany that is tak­ing some seri­ous steps for­ward in chang­ing the way we expe­ri­ence dig­i­tal media on tablets and sim­i­lar interfaces.
Senseg, estab­lished in 2006, has pro­duced a brand new touch tech­nol­ogy, called "E-Sense," with highly tan­gi­ble effects that deliver dif­fer­ent touch sen­sa­tions accord­ing to the media you are work­ing with.
Think about it; the device itself will have a form of non­ver­bal com­mu­ni­ca­tion directly with a user.  It also pro­vides tremen­dous edu­ca­tional oppor­tu­ni­ties, espe­cially for the visu­ally impaired. I would love if a dig­i­tal braille key­board or an appli­ca­tion to read e-books for the blind was devel­oped with this new E-Sense technology.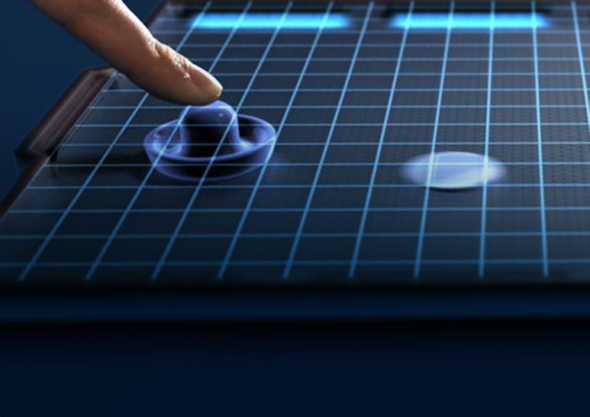 Accord­ing to Senseg, each appli­ca­tion will be able to react to dif­fer­ent user actions:
"Whether it is used to min­i­mize visual focus required for accu­rate oper­a­tion, or to enrich a multi-modal expe­ri­ence incor­po­rat­ing graph­ics, sound and feel. Senseg hap­tics are often used in com­bi­na­tion with graph­ics or/and sound for a more engag­ing and com­plete sen­sory expe­ri­ence; other times Senseg effects are used by them­selves, such as 'tag­ging' the loca­tion of hid­den objects that can be dis­cov­ered only by feel, or to rein­force user actions."
Senseg's solu­tion is com­prised of three main components:
A Tixel™ tech­nol­ogy that acti­vates the touch screen for elec­tro­sta­tic vibration.
An elec­tronic mod­ule that con­trols a sig­nal for touch inten­si­ties, effects and spe­cial relationships.
Soft­ware devel­oped by Senseg that man­ages effects in applications.
Did I men­tion that the new tech­nol­ogy is com­pletely silent, and will be able to scale from any device, from touch pads, smart phones and tablets to the largest touch screens?
When do you think we will "feel" the dif­fer­ence?  Check out more on Senseg's E-Sense Technology here.
Feel free to share your thoughts and opin­ions below.
For sev­eral weeks I've been seri­ously think­ing about our edu­ca­tion sys­tem, and today I'd like to share my ideas on the subject.
The cur­rent edu­ca­tion sys­tem is bro­ken, out­dated, and, dare I say it—dangerous. How did we arrive at this point, and what can we do to rem­edy the sit­u­a­tion? Let's start by answer­ing this ques­tion: why are things such a mess? I believe the sys­tem we have today is struc­turally the same exact sys­tem that our par­ents, and in some instances, even our grand­par­ents experienced.
The egal­i­tar­ian arrange­ment of the sys­tem is chiefly designed to mass pro­duce fac­tory work­ers. Uni­forms, bells, 2B pen­cils, stan­dard­ized tests and text­books, and strict sched­ules pre­pare kids to fol­low the same rules after graduation—memorize what's impor­tant, don't think deeply, obey the rules, don't ques­tion author­ity, work hard, and fol­low the clear and des­ig­nated path, in order to be rewarded with a raise, a pro­mo­tion, and, finally, a decent retirement.
You may be inclined to ask "What's wrong with this set up?" I believe that the edu­ca­tional model no longer takes into account the real­ity of post-educational life. How many stu­dents fin­ish­ing col­lege right now will have a job wait­ing for them? And, of the lucky ones land­ing a pay­ing job, how many have a clear and rel­a­tively safe career path until retire­ment? We are told a degree is a must. Why? Most of us will work for small busi­ness or as free­lancers from now on. Did you know that 15% of park­ing lot atten­dants have B.A. degrees?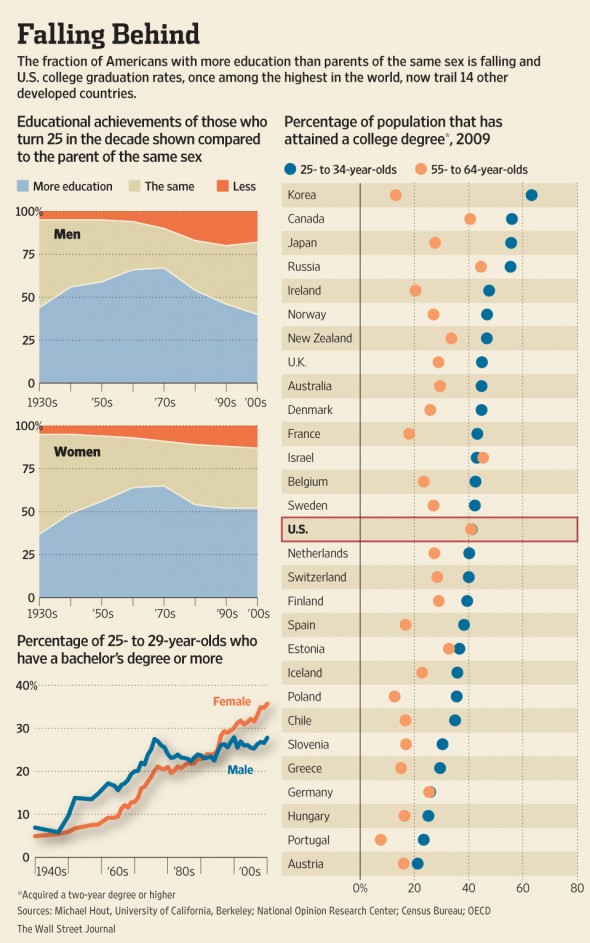 I can remem­ber my father buy­ing IBM shares for a fairly con­sis­tent annual return. If today the price keeps going up, but the return is uncer­tain until the end of the year, would you buy IBM? I cer­tainly would not. Now replace IBM shares for "col­lege edu­ca­tion" and annual return for "jobs" and this is exactly the sit­u­a­tion we are fac­ing today. Only 49% of grad­u­ates from the classes of 2009 to 2011 had found a full-time job within a year of fin­ish­ing school, com­pared with 73% for stu­dents who grad­u­ated in the three years prior.
How can the prob­lem be solved? I don't know. But the solu­tion requires a new way of eval­u­at­ing stu­dent per­for­mance, and a new way of edu­cat­ing future edu­ca­tors. An improved sys­tem should also reduce the costs while increas­ing the avail­abil­ity of qual­ity learn­ing. Colom­bia, with a pop­u­la­tion of 44 mil­lion, has 120 archi­tec­ture schools. The UK, with 60 mil­lion peo­ple, has only 12 schools. Do we need to guess who will have a greater rate of suc­cess after fin­ish­ing school, be able to pay her stu­dent loans, and con­cen­trate her efforts on becom­ing a bet­ter pro­fes­sional (and not only to sur­vive)? Did you know that two-thirds of stu­dents from the class of 2010, the lat­est fig­ures avail­able, grad­u­ated with stu­dent loans, with an aver­age tab of $25,250.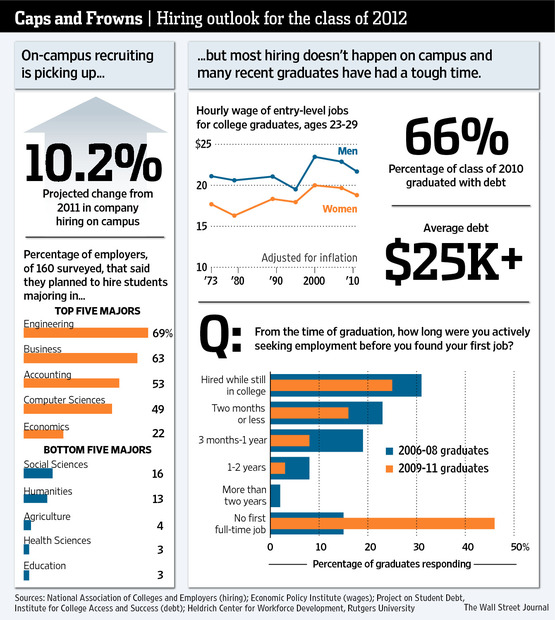 A friend told me recently that "we are still dealing with the 'Protestant Work Ethic' [work hard and you will succeed individually] instead of implementing a more 'Social Ethic' [we all do better working as a group]." I could not agree more with this assessment.
Game strategy, social media, and video tutorials are incredible tools that are readily available to create hands-on, project-based, interdisciplinary courses. But these tools are often ignored, and when implemented they are forced into the traditional system. No wonder the results are far from ideal in most cases.
This beautiful video by Tobias Precht and Jonas Kimmelmann shows an intriguing way to combine the current system with some of the current, and future, learning tools. The video is 6 minutes long, but absolutely worth the extra 270 seconds…
During my architectural photography workshops, I obviously talk about aperture, lights, lenses and other photo-specific topics. But I also show what I consider the best parts of Julius Shulman's documentary "Visual Acoustics" (streaming it directly from Netflix), I demo tools like Google Earth and several smart phone applications that I use on location, I talk about architectural renderings, show students the most beautiful examples of CGI animations, deliver my handouts as downloadable PDFs from my website, and often share large images and documents via Dropbox with them. I can't see why we could not teach history or literature in a similar way. Problems can never be fully understood in the context of a single academic discipline.
I believe that flexibility, teamwork, accounting, time management, project management, languages (especially Spanish and Chinese), are more important job-targeted skills to have now than ever.
As en educator, and proud uncle of two boys, I am especially worried with the amount of legal medications administered to kids. Are we really facing an ADHD epidemic nationwide? Why should children pay the price for an outdated system that is incapable of grabbing the interest of people bombarded with non-stop electronic stimuli? And not only the students are bored. According to another research, only 44 percent of American teachers are satisfied with their jobs. That's the lowest number in two decades and an 18-point drop since 2008.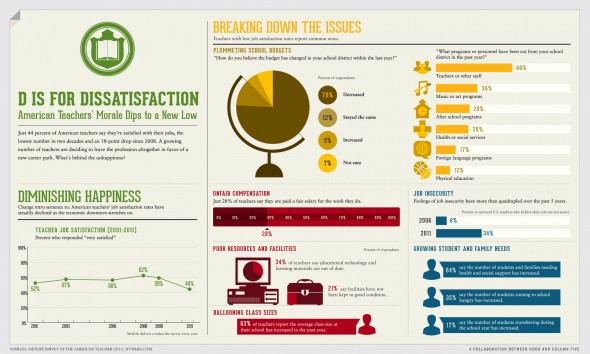 And the issue doesn't only concern kids. Just a little more than two years ago, the standard attention span of a YouTube video used to be three minutes. Now most people will not finish watching something that is more than two minutes long. A professional video editor told me last week that we needed to edit an upcoming project to less than 90 seconds to ensure that we grab viewers' attention!
Do we need to think outside the box or is the box the thing that needs to be fixed? To succeed in the twenty-first century economy, students must learn to analyze and solve problems, collaborate, persevere, take calculated risks and learn from failure. Can we achieve this by having our kids watch Barney DVDs by themselves all day long? I seriously doubt it.
A few weeks ago, a school administrator tried to block Google's chat feature, but his seventh grade students simply shared a new Google Document amongst themselves and used the sidebar chat to talk with each other. I am sure the administrator wasn't happy, but I hope he understood that the answer is not preventing access, but using the current tools in more efficient ways. Imagine, for example, if that "workaround" Google Doc was this article and the seventh grade students could offer their feedback, and tell us how would they like to learn what we are trying to teach them.
Learning in most conventional education settings is a passive experience: The instructor talks, the students listen. But at the most innovative schools, classes are "hands-on," and students are creators, not mere information consumers.
One of my consulting clients recently mentioned that his architecture magazine, which has been around for 30-plus years, was coming to an end due to poor sales. I suggested switching to a digital version, which could dramatically lower costs and potentially reach a lot more people. His answer? "I don't know how to do that." My reply: "Ask your students! You have face to face contact with hundreds of architecture students every year, simply ask them what kind of content they would like to consume, what kind of articles, videos, and photos they prefer. Once you understand what they want, hire someone else to do it under your expert supervision."
By analyzing the way we respond to news, movies, images, and TV shows, Facebook, Google, and other data-mining companies will be able to forecast fashion trends, box office hits, and viral sensations. Why can't we apply the same principles to education?
My five cents. What's your take? Please share it below.
Click here to see all the new updates
UPDATE: 0512 "Har­vard Busi­ness School For The Face­book Age." Stu­dents are work­ing in "hives," new cir­cu­lar, col­lab­o­ra­tive work­spaces, which are part of a rad­i­cal rethink of the sto­ried school's estab­lished cur­ricu­lum, its ped­a­gogy, stu­dent pro­files, and out­comes, to its brand iden­tity and phys­i­cal spaces.
UPDATE: 0520 The Fed­er­a­tion of Amer­i­can Sci­en­tists reported that stu­dents only recall 10% of what they read and 20% of what they hear. If visual accom­pany an oral pre­sen­ta­tion, reten­tion rises to 30%. But if they do the job them­selves, even if only as a sim­u­la­tion, stu­dents can remem­ber 90%.
UPDATE: 0521 NMC Hori­zon Project 2012 K-12 Edi­tion. "The abun­dance of resources and rela­tion­ships made eas­ily acces­si­ble via the Inter­net is increas­ingly chal­leng­ing us to revisit our roles as edu­ca­tors. Insti­tu­tions must con­sider the unique value that each adds to a world in which infor­ma­tion is every­where. In such a world, sense-making and the abil­ity to assess the cred­i­bil­ity of infor­ma­tion are para­mount. Men­tor­ing and prepar­ing stu­dents for the world in which they will live is again at the fore­front. K-12 insti­tu­tions have always been seen as crit­i­cal paths to edu­ca­tional cre­den­tial­ing, but chal­lenges from com­pet­ing sources are
redefin­ing what these paths can look like." The report is avail­able here.
UPDATE: 0522 I had no idea Bill Gates was such a great speaker! Here he talks about state bud­gets which are "rid­dled with account­ing tricks that dis­guise the true cost of health care and pen­sions and weighted with wors­en­ing deficits — with the financ­ing of edu­ca­tion at the los­ing end." Fantastic.
UPDATE: 0527 Explor­ing the poten­tial of book pub­lish­ing in dig­i­tal for­mats by IDEO. "What hap­pens when the read­ing expe­ri­ence catches up with new tech­nolo­gies?"
Hello Google Drive, bye bye Dropbox?
After years and years of false rumors, today Google has finally announced Google Drive.
Why is this so cool, you might ask. Well, so it hap­pens that you get 5GB for free and you can get up to 100GB. Drop­box offers only 2GB for free. Is that enough to switch? Let's see what Google has to say about the new service:
Cre­ate and col­lab­o­rate. Google Docs is built right into Google Drive, so you can work with oth­ers in real time on doc­u­ments, spread­sheets and pre­sen­ta­tions. Once you choose to share con­tent with oth­ers, you can add and reply to com­ments on any­thing (PDF, image, video file, etc.) and receive noti­fi­ca­tions when other peo­ple com­ment on shared items.
Store every­thing safely and access it any­where (espe­cially while on the go). All your stuff is just… there. You can access your stuff from anywhere—on the web, in your home, at the office, while run­ning errands and from all of your devices.
Search every­thing. Search by key­word and fil­ter by file type, owner and more. Drive can even rec­og­nize text in scanned doc­u­ments using Opti­cal Char­ac­ter Recog­ni­tion (OCR) tech­nol­ogy. Let's say you upload a scanned image of an old news­pa­per clip­ping. You can search for a word from the text of the actual arti­cle. We also use image recog­ni­tion so that if you drag and drop pho­tos from your Grand Canyon trip into Drive, you can later search for [grand canyon] and pho­tos of its gorges should pop up. This tech­nol­ogy is still in its early stages, and we expect it to get bet­ter over time.

I just installed Drive on Mac, my Android tablet and my Android phone and every­thing is work­ing REALLY smoothly. A PC ver­sion is already avail­able, and Google says that the iOS ver­sion will be "com­ing soon." You can down­load the app here and here.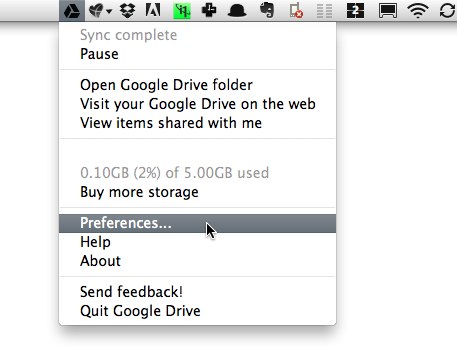 I have been using Drop­box for a long time and I've been pretty happy. But it only gets you2GB for free, the sys­tem is con­fus­ing for most peo­ple who move the file think­ing that they are copy­ing it, the noti­fi­ca­tion sys­tem (when some­one adds or removes an item) sucks and does not have OCR technology.
Oh what to do, what to do. I'm plan­ning to keep both, and ded­i­cate Drive to doc­u­ments shared by my team, and leave Drop­box for my music and per­sonal files. That means 7GB of free Cloud awe­some­ness. Engad­get put together this super handy chart.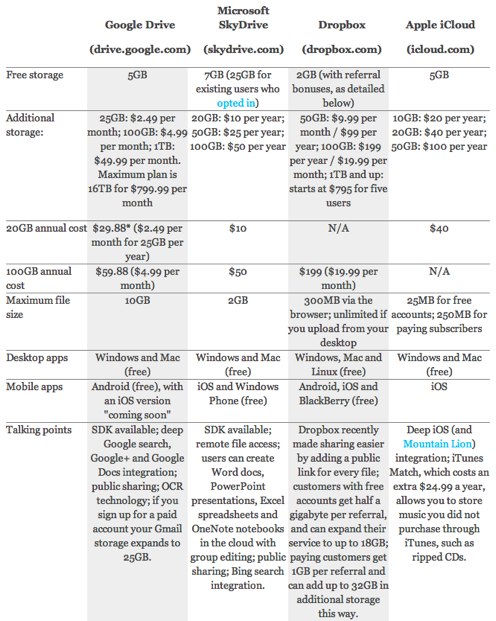 On a related news, some friends are report­ing that their Gmail stor­age was sud­denly increased to 10GB. Unfor­tu­nately I have the same 8,271MB I've had for years.….I guess I'm not that spe­cial. Did you get a Gmail upgrade? How are you plan­ning to use Google Drive ? Please put your com­ments below.
Serendip­ity: noun; the occur­rence and devel­op­ment of events by chance in a happy or beneficial way.
One of the many things I love about trav­el­ing is that I start see­ing things dif­fer­ently, sim­ple objects become spec­tac­u­lar sculptures, every day activ­i­ties are sud­denly fresh and attrac­tive, and even air­port lounges (below at JFK Inter­na­tional Ter­mi­nal) at dusk offer excit­ing visual chal­lenges and new opportunities.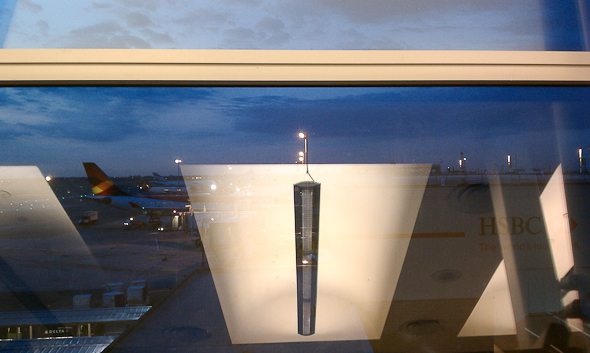 One of my favorite photo books is "Learn­ing to See Cre­atively"
 by Bryan Peter­son. I have been using this book for over 10 years, and every time feels more current.
Serendip­ity: noun; the occur­rence and devel­op­ment of events by chance in a happy or beneficial way.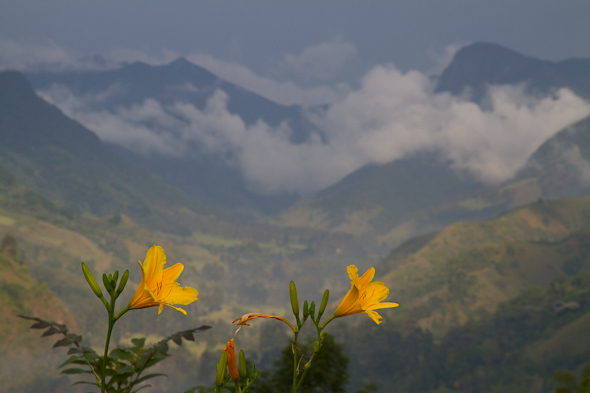 The Cocora Val­ley is located in the Cen­tral Cordillera of the Andean moun­tains in Colom­bia. Accord­ing to local leg­ends, "Cocora" was the name of a Quim­bayan princess, daugh­ter of the local chief Acaime, and means "star of water". The Val­ley  is the prin­ci­pal loca­tion of the national tree and sym­bol of Colom­bia, the Quindío wax palm, as well as a wide vari­ety of other flora and fauna pro­tected under the Park's national sta­tus. The val­ley and the nearby town of Salento are among the most pop­u­lar tourist des­ti­na­tions in the country.
"Hang­ing out" is our newest image on "Visual Serendip­ity," a weekly series of unplanned pho­tographs taken with an Android cell­phone. Serendip­ity is the occur­rence and devel­op­ment of events by chance in a happy or ben­e­fi­cial way.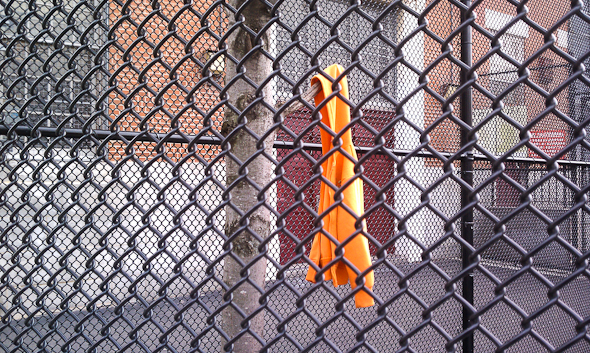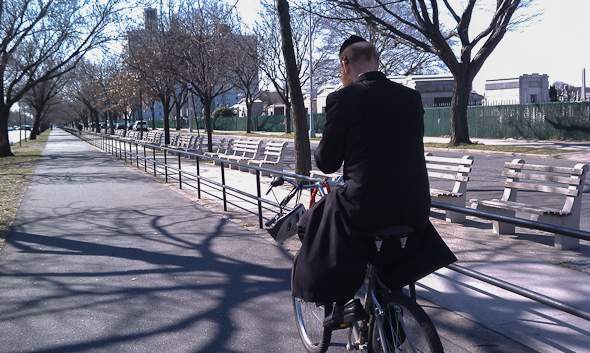 Serendip­ity: noun; the occur­rence and devel­op­ment of events by chance in a happy or ben­e­fi­cial way.
"Mul­ti­task­ing" is our newest addi­tion to "Visual Serendip­ity," a weekly series of unplanned pic­tures taken with a smart phone.
The release of the new Mac OS X 10.8 Moun­tain Lion is approach­ing. Apple recently unveiled a "devel­op­ers pre­view" to get pro­gram­mers up to speed with the new plat­form. The ship­ping ver­sion will be avail­able in less than 6 months. So far, some of the high­lighted fea­tures are a deeper inte­gra­tion with Apple's iCloud, new shar­ing capa­bil­i­ties, and improved secu­rity. It is believed that Rosetta will stay with us a lit­tle longer, while iChat will be replaced with "iMessages."
As expected, iCloud will be the cen­ter of Apple's uni­verse, and all other devices (iPhones, iPads, desk­tops, and lap­tops) will sim­ply inter­act with iCloud to han­dle media, mes­sag­ing, cal­en­dars, reminders, set­tings, and even pur­chases. Every­thing lives in the cloud—the device is sim­ply a way to retrieve and add infor­ma­tion. Oddly enough, one of the biggest changes is direct inte­gra­tion with Twit­ter. iCloud's Doc­u­ments will be com­pet­ing directly with Google Doc­u­ments.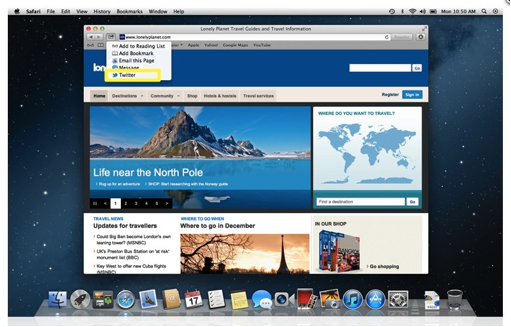 Appli­ca­tions like Safari, Mail, iPhoto, Reminders, and Photo Booth will be able to tweet directly with­out hav­ing to launch or man­age a sep­a­rate Twit­ter client. Tweets will be context-aware: mean­ing a tweet from iPhoto will enable shar­ing via Flickr, while a video tweet will dis­play Vimeo or YouTube as an option. What will come out first, the new OS or the updated line of Mac Book Pros?
Serendip­ity: noun; the occur­rence and devel­op­ment of events by chance in a happy or ben­e­fi­cial way.
Spring leaves? No, it is just arriving.
Serendip­ity: noun; the occur­rence and devel­op­ment of events by chance in a happy or ben­e­fi­cial way.
I'll do my best to post one new pic­ture every week. The rule (there's always a rule) is that it has to be taken with my trusty, yet dying, HTC Incred­i­ble cell phone.
Bik­ing is fun, good for your health, and great to explore a new neigh­bor­hood. The col­or­ful build­ing is a sim­ple stor­age facil­ity in Brooklyn.