This is a scan from my jour­nal that I bring with me to every pre­pro­duc­tion meet­ing that I have with clients, direc­tors, pro­duc­ers, and oth­ers. In this scan you can see my handy "pre­pro­duc­tion notes."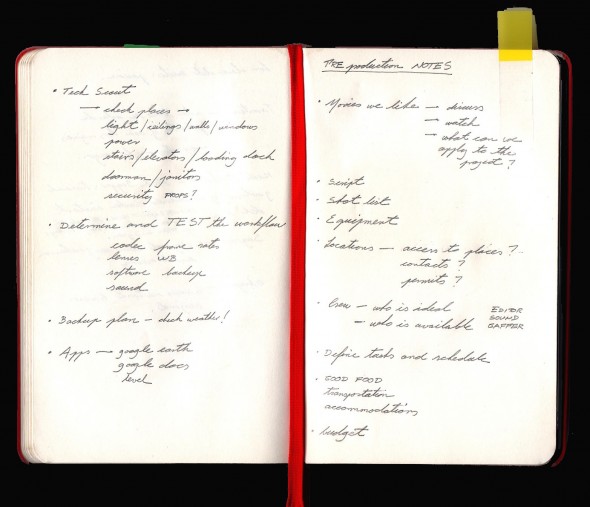 Here's how my sys­tem works: first, I like to get the con­ver­sa­tion going by shar­ing movies that we like and movies that could be related to the project at hand. This helps tremen­dously in our effort to under­stand both tech­ni­cally and aes­thet­i­cally what the client or direc­tor is going after, and if we are a good match for the project.
About a year ago I sat down with a direc­tor who began envi­sion­ing a project as "film noir meets sci­ence fiction/kung fu—but in a funny way," which saved us both a lot of time, as I was defin­i­tively not interested!
Let's take a look at the other things I con­sider on every video production:
• Script: Do we have a script? Is it from a book or is it an orig­i­nal script? When can I see it? If there isn't a script, who is going to write it and when? This is a very impor­tant step. Even though I always write the scripts for my own projects, it needs to be clearly defined who will per­form this inte­gral part when it comes to some­one else's project. I have been using Celtx, and I am very happy with the results. The script is by far THE most impor­tant piece on any video pro­duc­tion puzzle.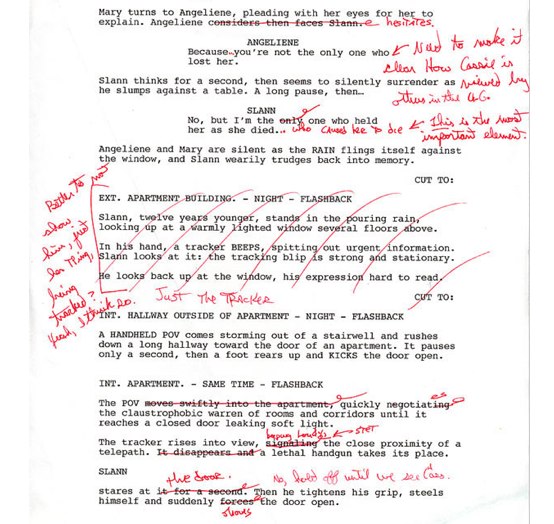 • Shot list: As soon as I have the script, I start cre­at­ing a shot list: what kind of gear do we need? Do we own it? Do we need to rent it? How many shots can we accom­plish in one day? The answers to these ques­tions can vary greatly depend­ing on loca­tion, the scenes' com­plex­ity, per­mits, and even the weather.
• Loca­tion Per­mits: Since most of us don't have access to Hollywood's sets and pro­duc­tion bud­gets, being cre­ative is extremely impor­tant. Hav­ing access to loca­tions that other peo­ple don't have access to is key. There are sev­eral beau­ti­ful aban­doned build­ings on Wall Street that no one knows about. In Harlem there are fan­tas­tic man­sions that you can shoot if you know the right peo­ple. Bat­tery Park is Fed­eral prop­erty while Cen­tral Park is not. Both require shoot­ing per­mits, issued by dif­fer­ent offices.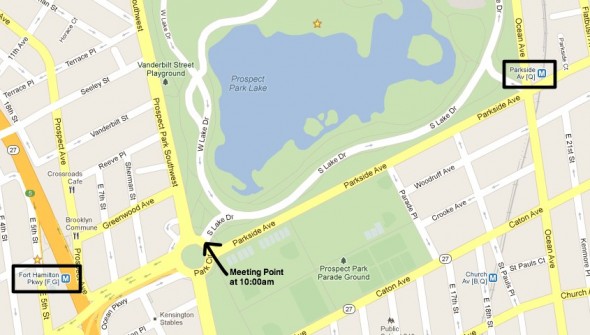 • Loca­tion Scout­ing: I am often sur­prised to see how many peo­ple ignore this crit­i­cal step. In cities like New York things change, and they change fast. The park that you so fondly remem­ber is now a park­ing lot. And that awe­some aban­doned build­ing? Well, it's now a lux­ury condo.
With cur­rent smart phone appli­ca­tions you don't need to bring a lot of gear. How tall are the ceil­ings? What is the color of the walls? Where are the win­dows? Do you have easy access to power out­lets? Freight ele­va­tors? Load­ing docks? It pays to plan ahead.
• Crew: The two main ques­tions are: who would be ideal for this job, and, who is avail­able? The answers very often don't match up. Once you have your "dream team" set up it is impor­tant to clearly define tasks. You might have three pho­tog­ra­phers work­ing together and all of them want to be the direc­tor of pho­tog­ra­phy at the same time. This can­not hap­pen. At a min­i­mum you will need a direc­tor, a pro­ducer, a direc­tor of pho­tog­ra­phy, a gaffer, and some­one in charge of sound. You will also need an expe­ri­enced video edi­tor. If you are only two peo­ple, it does not mean that these jobs go away or are not needed. It means that each one of you will be doing sev­eral jobs at once, which is not ideal.
• Food: I absolutely believe that feed­ing your crew well is para­mount. It is the least you can do for peo­ple giv­ing you their time and knowl­edge and mak­ing your dreams pos­si­ble. Unless you are in high school and this is your first shoot, pizza and pop don't cut it anymore.
• Bud­get: This is per­haps the most impor­tant and dif­fi­cult part to mas­ter. Addi­tional gear, unre­li­able crewmem­bers, unpre­dictable weather, or re-shoots can throw a per­fectly cal­cu­lated bud­get out the win­dow. It is very easy to under­es­ti­mate the time needed for post­pro­duc­tion. Leave ample room for emer­gen­cies. The money runs out faster at the end.
• Secu­rity: Who has access to the freight ele­va­tor? Are there lim­ited access hours? Some build­ings in Man­hat­tan will only use the freight ele­va­tor on cer­tain week­days. Who will be the man­ager on duty?
• Work­flow: I can­not empha­size this enough: test your work­flow before your start shoot­ing. Test your file for­mats, your mem­ory cards, your hard dri­ves and edit­ing soft­ware, and never, ever, bring gear that you don't know how to use to a shoot.
• Back-Up Plan: You can con­trol many things, but you can­not con­trol the weather. You always need a Plan B. If you show up and no one is there, what would you do? If the cho­sen loca­tion is not avail­able, where do you go next? If you have 10 peo­ple with you, how will you be mov­ing around? HDSLR sys­tems over­heat eas­ily, espe­cially dur­ing the sum­mer and shoot­ing out­side. Be sure to bring a back up sys­tem. Bring back up bat­ter­ies, bulbs, cards. This is com­mon sense. But com­mon sense is not common.
• Appli­ca­tions:
We use Google Doc­u­ments to share infor­ma­tion with the rest of the crew in one sin­gle doc­u­ment con­tain­ing the day's itin­er­ary, sched­ule, con­tact infor­ma­tion, loca­tions, weather fore­casts, last minute details, etc. Start­ing time changed? Are we switch­ing loca­tions? No prob­lem. With Google Docs every­one has access to the most cur­rent ver­sion of any document.
We also love Google Earth: Remem­ber the time when you had to fly some­where or hire a local scout to research cer­tain loca­tions? Google Earth is a god­send. You can access any loca­tion and deter­mine accu­rate sun­rise and sun­set times, inter­est­ing van­tage points, and even nearby accommodations.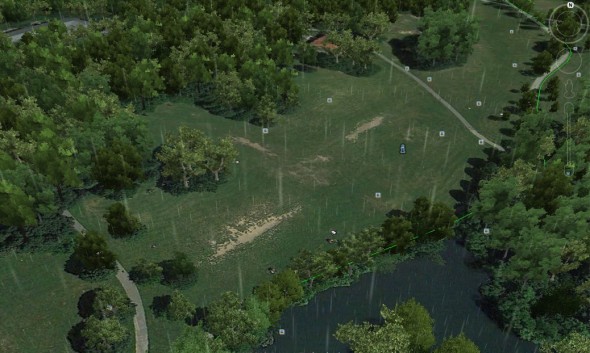 • Gear: The gear list is so long and changes so often that it deserves a sep­a­rate post. In the mean­time check PDN's recent arti­cle "13 Prod­ucts You Need to Add HD Video to Your Busi­ness." The arti­cle is avail­able as a com­ple­men­tary down­load to our newslet­ter subscribers. Click here to sign up!
We hope this helps you to stream­line your pre­pro­duc­tion work­flow. These are all things that we have learned from expe­ri­ence and that have been extremely help­ful on every new assign­ment that we accept. If you want to share your expe­ri­ences or add some­thing we might have missed please add your com­ments below.
On the sixth Episode of our "Con­ver­sa­tions with Friends" we sat down with Ted Kawaler­ski, pro­fes­sional pho­tog­ra­pher and direc­tor, to talk about his tran­si­tion from still pho­tog­ra­phy to doc­u­men­tary and cor­po­rate film­mak­ing after a 35-year career.
Ted talked about find­ing great part­ners for his dig­i­tal cin­ema projects, and shared with us some of the rewards and  joys and tech­ni­cal frus­tra­tions he has dis­cov­ered dur­ing his transition.
We dis­cussed Ted's upcom­ing Fam­ily Life Acad­emy video project, the impor­tance of sound, the video editor's role, and sto­ry­telling. In fact, we cov­ered so many inter­est­ing top­ics that we decided to edit Episode 6 as Part 1, and Episode 7 as Part 2.
For this Episode we used Rode Lava­lier Mics and Ted men­tioned his pref­er­ence for Rode Shot­gun mics.
To cel­e­brate the Spring's arrival, Eduardo enjoyed a "sparklingly mild and fruity" Paulaner Hefe-Weissbier nat­ural wheat beer with a "del­i­cate yeast flavour, gleaming orange colour, and uni­form cloudiness." Ted drank about a gal­lon of tap water.
Here are the links to Episode 05, and Episode 04.
 
Please add your com­ments below! Are you enjoy­ing our Con­ver­sa­tions? Did you learn some­thing new today?
Adobe doesn't notify cus­tomers who pur­chased single-user licenses about com­pli­men­tary post-announce upgrades, BUT accord­ing to a some­what obscure com­pany pol­icy, users who bought soft­ware (full or upgrade) soon after a new ver­sion was announced, might be eli­gi­ble for a com­pli­men­tary upgrade. If you fol­lowed my instruc­tions on a pre­vi­ous post to pur­chase Light­room 4 50% off, you might be one of the lucky ones.You need to con­tact Adobe directly to find out if you fall in the eli­gi­bil­ity period. Let me know how it goes.
If you already pur­chased the upgrade and have ques­tions about the instal­la­tion, fol­low these sim­ple steps here and here.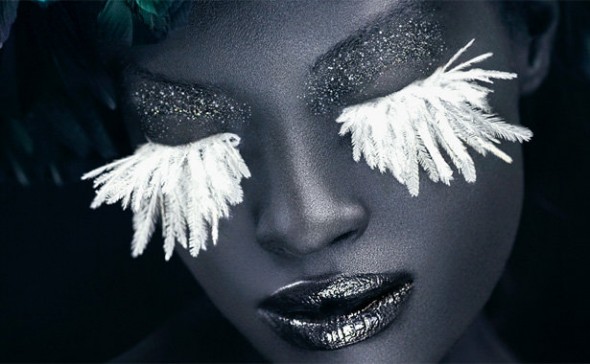 Ok. Let's start from the begin­ning: We are look­ing at a 22.3 Megapix­els, Full Frame (36 x 24mm) CMOS sen­sor sys­tem, pow­ered by a DIGIC 5+ proces­sor. Check this arti­cle if you want to fully under­stand the dif­fer­ences between the DIGIC 4 proces­sor on the 5D Mark II, and the new DIGIC 5+ on the 5D Mark III.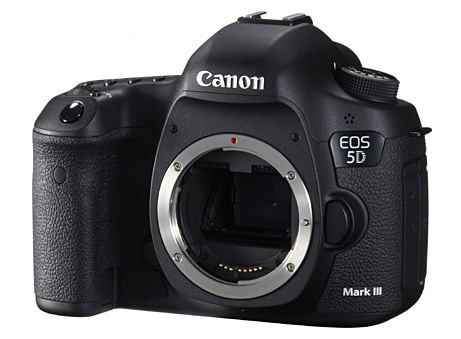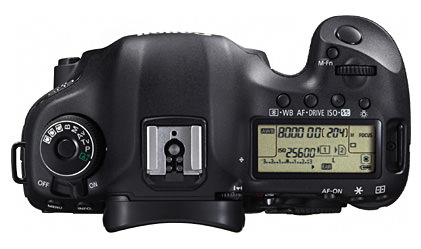 Some of the high­lighted fea­tures include:
• Dual card slots (1 SD/SDHC/SDXC and 1 CF). Sorry, no XQD on this one. What is awe­some about the dual cards is that you can a) record the same data to both cards, or b) record dif­fer­ent file sizes or types to each card, or c) auto­mat­i­cally switch to the sec­ond card when the first card is full. That's great when shoot­ing long inter­views, or con­certs, for exam­ple.
• HDR with +/- 3 stops
• Improve­ment in noise reduc­tion by 2 stops
• Mul­ti­ple expo­sure mode
• 63 zone dual meter­ing sys­tem
• +/- 5 stops (the 5D Mark II has only 3 stops)
• iFCL meter­ing sys­tem with a 63-zone dual-layer sen­sor
• File For­mats: AVI, RAW, JPEG, H.264, MOV, MPEG-4
• Full HD video record­ing: 1080/30p, 24p, 25p; 720/60p, 50p; 480/60p, 50p
All the typ­i­cal fea­tures are here: Min­i­mum Shut­ter Speed (30 sec), Max­i­mum Shut­ter Speed (1/8000 sec), 100% cov­er­age viewfinder, etc, etc, etc. As expected, dura­bil­ity on the Mag­ne­sium Alloy chas­sis has been improved includ­ing a 150,000-cycles shut­ter, and water and dust addi­tional resis­tance.

These are the specs that REALLY got my atten­tion:
• It is now pos­si­ble to check two images side-by-side for sharp­ness, expo­sure, etc at dif­fer­ent aspect ratios (1:1, 4:3, 16:9) with the new "Com­par­a­tive Play­back" func­tion.
• There's a Q but­ton that will process RAW to JPG on cam­era.
• The new cam­era shares the same exact 61-point High Den­sity Retic­u­lar AF sys­tem found in the EOS 1D-X (for half the price).
• There's an iPod-like but­ton to make changes in the movie mode with­out adding noise to the clips. Smart!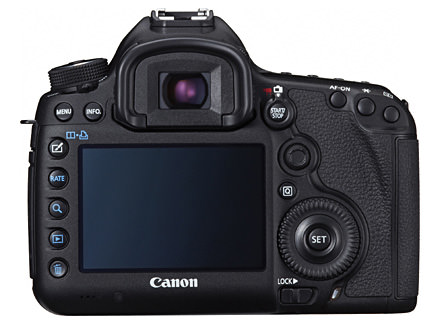 • The 5D Mark III uses the same bat­ter­ies (LP-E6) as the 7D and 60D.
• The ISO war keeps get­ting bet­ter. The Mark III offers ISO 100–25600 (expand­able up to ISO 102,400) for stills, and 100–12800 (up to ISO 25,600) for video. Wow! Now we really could use an iPad as a Key Light!

Here's an inter­est­ing set of high-res JPEGs sam­ples shot at ISO 50 to 102,800. The test was per­formed under low level halo­gen lights, which are per­haps the most chal­leng­ing to dig­i­tal sen­sors and noise reduc­tion systems.
Video Fea­tures.
There are sev­eral seri­ous improve­ments on this front:
•There are a cou­ple of new video Modes: "Silent and Low Vibra­tion," but I don't recall see­ing them on the pro­to­type I tested.
• The video res­o­lu­tion is Full HD (1920x1080), and the video for­mat is the same H.264, which I per­son­ally love because it runs natively on Adobe Pre­miere Pro and Light­room 4, and plays extremely well with online shar­ing plat­forms like Vimeo and YouTube.
• The record­ing buffer has been extended from 12 min­utes to 29 min­utes and 59 sec­onds. The 4GB limit is finally over.
• Fol­low­ing Nikon's D800 improve­ment, we now have a 3.5mm head­phone jack for live audio mon­i­tor­ing and a Wind Fil­ter. Other ports include USB 2, HDMI, Mic Input, and Wireless.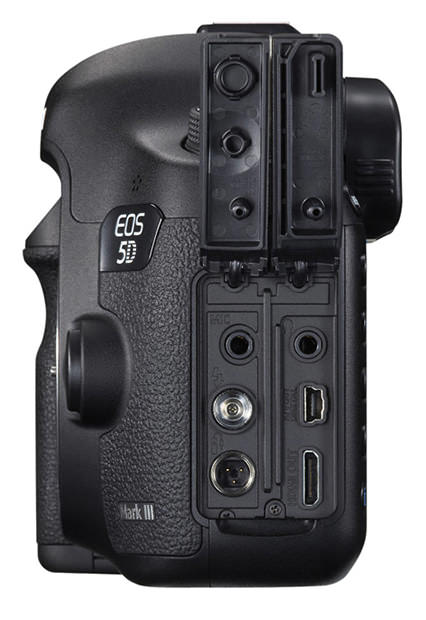 • The LCD screen is vir­tu­ally the same 3.2″ 1.04 mil­lion as the Nikon's D800. With a screen this size pho­tog­ra­phers are out of excuses for not using His­tograms the way they should.
• There's a built-in info menu while shoot­ing video, which comes super handy to quickly check impor­tant set­tings like White Bal­ance, Res­o­lu­tion, ISO, Pic­ture Style, etc.
Regard­ing audio, the changes are pretty exciting:
"The cam­era includes man­ual audio level con­trol with 64 lev­els, adjustable both before and dur­ing movie record­ing. There is also an auto­matic audio level set­ting, or sound record­ing can be turned off entirely. A wind fil­ter is also included. Sound can be recorded either through the inter­nal monau­ral micro­phone or via an optional exter­nal micro­phone through the stereo mic input."
—Click to continue  
"The EOS 5D Mark III includes new H.264 video com­pres­sion for­mats to sim­plify and speed up post-production work: intraframe (ALL-I) com­pres­sion for an editing-friendly for­mat and inter­frame (IPB) com­pres­sion for supe­rior data stor­age effi­ciency, giv­ing pro­fes­sion­als options to help achieve their ideal work­flow. Like the EOS-1D X, the 5D Mark III also includes two meth­ods of SMPTE-compliant time­code embed­ding, Rec Run and Free Run, allow­ing video footage from mul­ti­ple cam­eras and sep­a­rate audio record­ings to be synced together in post production."
The new cam­era deliv­ers 6 frames per sec­ond at high-speed. Burst Rate and Frames per Sec­ond (fps) speeds, are NOT the same — shoot­ing speed, or fps, dic­tates the speed at which you can take con­sec­u­tive shots; Burst Rate dic­tates how many of those shots you can take in a con­tin­u­ous burst, with­out slow­ing down. We put together this chart to com­pare the most cur­rent Canon EOS sys­tems side-by-side: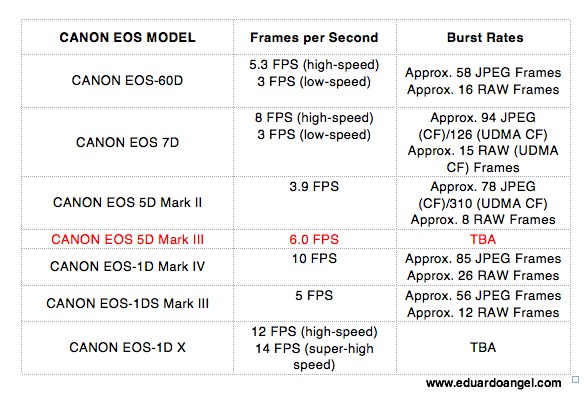 New Acces­sories:
Sev­eral new acces­sories will be added to Canon line of toys. There's a new flash, the Speedlite 600EX-RT, which is 20% faster than the 580 EX II, and comes with built-in wire­less radio con­trol (up to 16 chan­nels in 5 groups). We have a new Wire­less File Trans­mit­ter WFT-E7A sup­port­ing 802.11 a/b/g/n, and a built-in giga­bit Eth­er­net con­nec­tion. And soon we will also have a new GPS device (GP-E2), which will be the per­fect com­pan­ion to Adobe Light­room 4 brand new Map Mod­ule.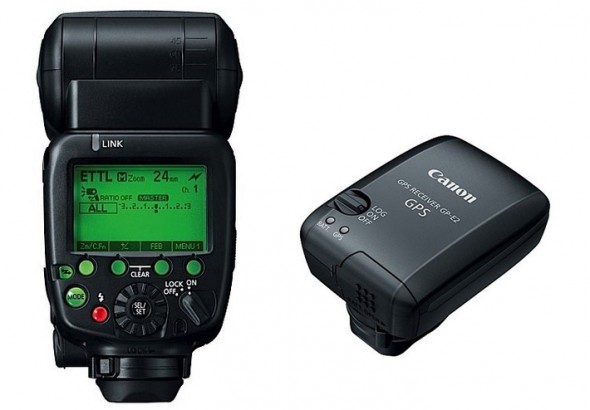 Here's a hands-on test with  the 600EX-RT Flash and the STE3-RT Trans­mit­ter.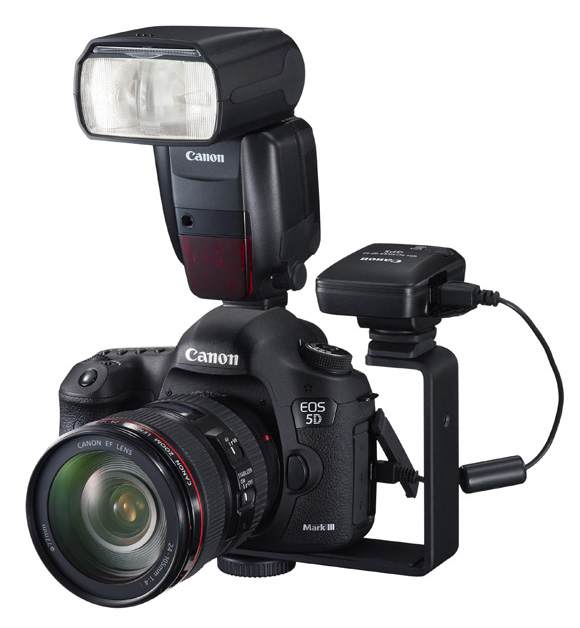 The 5D Mark III will start ship­ping by the end of this month for $3,500 (body only) and for $4,300 with the 24-105mm f/4 L IS lens.
So, is this the cam­era of your wildest dreams? Canon shoot­ers: Are you plan­ning to upgrade to the 5D Mark III or are you con­sid­er­ing the EOS C300?
Feel free to share your com­ments!