Is Canon following Adobe's steps?
 
Canon just released their "EOS Digital Solution Disk V28.1″ software suite. As usual, it…
Visual Serendipity. Week 68.
It's been a long time we don't post a new Con­ver­sa­tions with Friends Episode. There are too many rea­sons, but what mat­ters is that today we have a new Episode (num­ber 8). We met with Car­los Fuchs, a pro­fes­sional film­maker based in Frank­furt, light­ing expert, and old friend. I had the priv­i­lege to walk Pho­tok­ina for one day with him, and as we saw and played with many new and amaz­ing tech­nolo­gies, he men­tioned that "the more things change, they stay the same." Watch the short clip below to learn what's his take on new cam­era and light­ing tech­nolo­gies. My apolo­gies in advance for the crappy sound. I brought a sound recorder with me, but didn't have my trusted Rode mics with me.
We had exactly 30 min­utes to shoot this con­ver­sa­tion, and I'm glad we made it hap­pen. Prost!
It doesn't get more serendip­i­tous than this. After Hur­ri­cane Sandy passed through Brook­lyn leav­ing behind floods, fires, and a long trail of destruc­tion, this was the first image I saw when I woke up. I had sev­eral cam­eras handy plan­ning (unsuc­cess­fully) to doc­u­ment the hur­ri­cane from our win­dow. Two images later, the clouds cov­ered the rain­bow and it was gone!
New York City, 1975 (photo: Joel Meyerowitz)

In honor of the 50th anniversary of when he first took up a camera, photographer Joel Meyerowitz has compiled hundreds of his favorite images for a new two-volume collection.

See more photos here.
(via fotojournalismus)
Artist Jay Mark Johnson uses slit-scan photography to capture unique images that emphasize time rather than space.

Johnson discovered this photographic technique by accident, after purchasing a slit-scan camera that he intended to use for high-resolution panoramas. Instead, he was fascinated by the effect of objects moving past the sliver of space captured by his lens. Rather than move his camera to capture a large swatch of space, as he would if he were taking traditional panoramas, he keeps the camera in a fixed position to photograph whatever moves across his narrow field.

Learn more about his technique and see additional images on his website.
After three jam-packed weeks attend­ing Pho­tok­ina, the Glimpse Con­fer­ence,Cloud­force, and Pho­to­Plus Expo, I have some­thing to con­fess: the most inter­est­ing and inspir­ing gadget/technology/trend I saw was NOT Samsung's inno­v­a­tive Galaxy Cam­era or Fuji's slick X-E1 or Blackmagic's Cin­ema Cam­era or a new pow­er­ful software.
It was a Muto­scope I saw at Frankfurt's Film Museum. "A what?" you may ask.
The Muto­scope, an early motion pic­ture device, was patented by Her­man Casler in 1894. Cheaper and sim­pler than Edison's Kine­to­scope, it did NOT project on a screen, and it pro­vided view­ing to only one per­son at a time. The sys­tem was mar­keted by the Amer­i­can Muto­scope Com­pany and quickly dom­i­nated the coin-in-the-slot "peep-show" business.
I am in love with the sim­plic­ity of this device, the way the viewer inter­acts with the story by using a hand crank. And story is the key­word. In under 60 sec­onds (the "movie" starts below at 00:34) we get to see a "crazy wheel" run­ning free through a small town, and the vil­lagers try­ing to catch it. See, this is about sto­ry­telling, not tech­nol­ogy. It's not about sen­sor size, firmware updates, bigger-is-better, or faster-is-better. It is about the story, some­thing I feel we have been loos­ing at an ever-increasing speed.
Events like hur­ri­cane Sandy make us revalue some of our pri­or­i­ties, the real sig­nif­i­cance of things we often take for granted, like run­ning water, elec­tric­ity, and true friends. In a sim­i­lar way the Muto­scope hit a nerve. For some strange rea­son, the idea of pro­duc­ing some­thing sim­ply for fun or plea­sure is becom­ing obsolete. We should, and we will, go back to the basics. Work harder on telling more engag­ing sto­ries, devel­op­ing new angles, com­mu­ni­cat­ing bet­ter ideas and ask­ing deeper ques­tions. Tech­nol­ogy is great, but it is not the be-all and end-all that most pho­tog­ra­phers assume it to be. I'm sure some of you feel the same way. It would be great if you would share your thoughts below.
David Hockney narrates 'First Edit for TV Screen'
Back in May, Adobe announced Pho­to­shop CS6 and Pre­miere Pro CS6 with a new user inter­face.  Now, the com­pany has added that new look to Pho­to­shop Ele­ments 11 and Pre­miere Ele­ments 11. Both appli­ca­tions are less intim­i­dat­ing for new­com­ers, allow­ing quick and easy orga­ni­za­tion, edit­ing and shar­ing of media, and tar­geted for new pho­tog­ra­phers or video editors.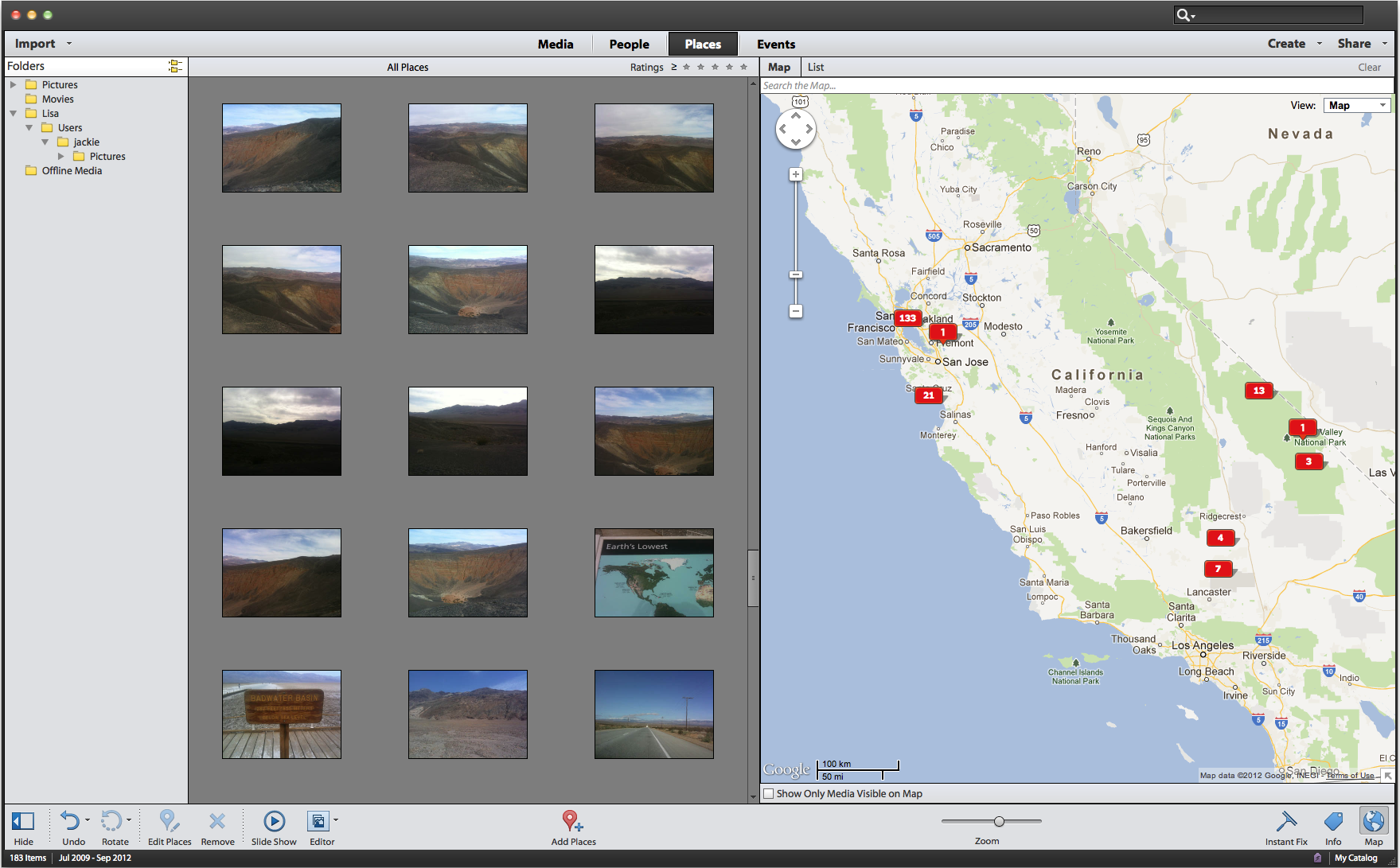 Both apps include an image orga­nizer that closely resem­bles Adobe Bridge, mak­ing the most com­monly used func­tions eas­ily acces­si­ble, while other tools are hid­den away in the menus. The new orga­nizer is laid out as a 3 col­umn panel in Pho­to­shop Ele­ments 11 and inte­grates with  Google Maps, just like the Map Mod­ule in Adobe Light­room 4. Addi­tion­ally, tag­ging pho­tos and videos with peo­ple or events (mim­ic­k­ing Face­book) is now possible.
Since Pre­miere Ele­ments includes "Expert" work­spaces with inter­est­ing tran­si­tions and effects, this might be a good prod­uct for pho­tog­ra­phers tran­si­tion­ing into video. The goal is not to become an expert video edi­tor, but under­stand NLE apps and more impor­tantly, the required assets to put together a video project.
The lat­est ver­sion of Pre­miere Ele­ments makes burn­ing fin­ished movies and upload­ing them directly to YouTube or Vimeo a breeze.
The com­pany also decided to high­light brand new fil­ters in Pho­to­shop Ele­ments 11, which we are guess­ing are inspired by all of the comic-book movie hits this year. Some of these fil­ters include "Graphic Novel," and "Pen & Ink," and "Comic." They can quickly turn an image into an awe­some illus­tra­tion, or a photographer's worst night­mare. Some­thing "bor­rrowed" from Pho­to­shop CS6 is the "Refine Edge" tool, which is great to cut out objects and peo­ple, tak­ing into account fine edges like hair or leaves.
Film­mak­ers will also enjoy a series of new Hollywood-inspired fil­ters, includ­ing "Red Noir", a "Sin City"-esque effect with red accents, and "Pan­dora," appar­ently meant to evoke "Avatar." Feel free to take a fur­ther look at this use­less effect. Time Remap­ping and Reverse Time have been added so fast or slow-motion effects are just a click away.
The price tag seems very rea­son­able:  $100 each app or $150 for both as a bun­dle. An upgrade from pre­vi­ous ver­sions of Ele­ments goes for $80 each, or $120 for both. Ready to play? Down­load the free trial from Adobe's web­site. Ready to buy?  Hurry up! Ama­zon is offer­ing the bun­dle for only $137!
Since we arrived from Pho­tok­ina we have been bom­barded with ques­tions about the 6D. "Did you see it?" "Do you like it bet­ter than the 7D?" "Should I buy it?"
Here's a very quick overview: The megapixel count on Canon's EOS 6Dis vir­tu­ally iden­ti­cal to the Mark III, but it is 50% cheaper and 20% lighter. The size is very sim­i­lar to the 60D, with­out the tilt­ing and swivel­ing screen, which in my opin­ion is one of the strongest sell­ing points of the 60D for video shoot­ers. It is great to see a DIGIC 5+ on this cam­era, which is approx­i­mately three times faster than DIGIC 5, and 17 times (yes, sev­en­teen times) faster than the DIGIC 4 found on the Mark II.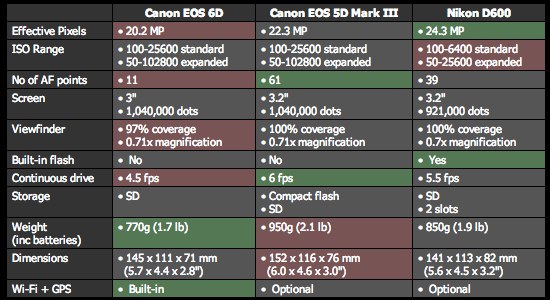 Handy com­par­i­son chart from DPReview.
By the way, if you are a pho­tog­ra­pher and you are not shoot­ing video yet, stop right now and read this "This is why pho­tog­ra­phers need to learn video right now." After you fin­ish the arti­cle, sign up for any of our upcom­ing video work­shops (here and here).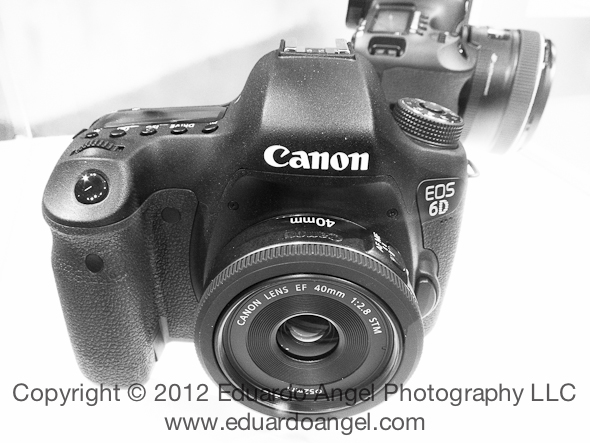 The 6D matches Nikon's D800 4.5fps. This is hard to explain but some­how the cam­era feels as light as the Rebel bod­ies with­out feel­ing cheap.
The mode dial lacks a third Cus­tom Mode but gains a "CA" (Cre­ative Auto) mode. When com­pared to the EOS 5D Mark II, the 6D offers some impor­tant advan­tages: a much higher max­i­mum ISO (51200 vs. 6400), a larger LCD screen (3.2-inch vs. 3), HDR, GPS, faster in startup/shutter lag/fps, and much lighter. While the Mark III does not suf­fer from alias­ing and moiré pat­tern, it is likely that the 6D will suf­fer from the same issues as the Canon 7D and the Mark II.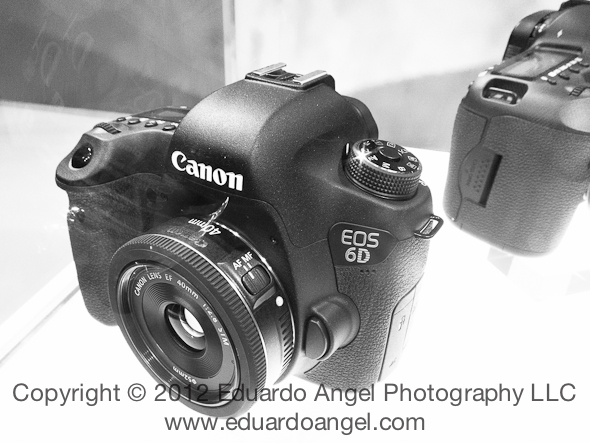 An app for both Android and iOS will allow users to remotely con­trol the cam­era, which also included GPS and Wi-Fi con­nec­tiv­ity which accord­ing to employ­ees at Canon's Pho­tok­ina booth will be able to trans­fer a full RAW + JPEG in under three sec­onds. I defin­i­tively want to see that since pre­vi­ous expe­ri­ences with other sys­tems have not been that great.
If this is true, I can see this cam­era, becom­ing a fan­tas­tic option for pho­tog­ra­phers want­ing wire­less teth­er­ing solu­tions with­out addi­tional adapters/transmitters. Check this great arti­cle explain­ing the EOS 6D's inte­grated GPS sys­tem.

Finally, I believe that adding my work­horse 24-105mm f/4L USM zoom lens to the 6D kit is an excel­lent move from Canon's part. What's your take? Is the 6D a step-up from the EOS 7D, or a step down from the Mark III? Please share your com­ments below, and let us know if you are join­ing us next Mon­day Octo­ber 15th at 1pm EST on our "Pho­tok­ina Trends Hangout."