Grafisch Lyceum Rotterdam opens a unique 3D Studio

ROTTERDAM - The Grafisch Lyceum Rotterdam has opened an advanced 3D-studio facility to train students in 3D-video. Students following the MBO-study Camera/Editing will get their first taste of filming and editing 3D-material. The focus of the study is 3D-film and production for television. The Grafisch Lyceum Rotterdam is the first school in the Netherlands to provide students with such a facility.

By the end of October 2012 all 3rd-year students studying Camera/Editing at the GLR will receive instruction in 3D camera and editing. During a sixteen week basic training students will be introduced to 3D-video technique. Students who are interested in expanding their knowledge and skills in 3D can choose 3D-video as specialisation in their fourth and final year of study. In order to be eligible for this study, students need to take a special 3D visual test at the end of their third year of study. A maximum of sixteen students will be able to participate in the specialisation in 3D.

Sixteen edit tables
The new 3D studio facility makes all the necessary equipment available to film and edit 3D material. The GLR has acquired ten (10) 3D-camera's all equipped with two lenses in order to 'film' in 3D. There are sixteen (16) edit tables, each with high-end computers and monitors. 3D-editing software is installed on all the computers making it possible to import and work with 3D material.

3D-training
Three teachers at the GLR have followed special training programs at SONY in England and at the NAB Convention in Las Vegas. The teachers have implemented their new knowledge and experience to develop lesson material for the basic training and specialisation modules. More and more television programming like the international Olympics and WK-world championship football are being produced and broadcast in 3D. For this reason the GLR program will be focused primarily on 3D production for television. 

Flexible switching
What is special about the new 3D-studio at the GLR is that all the viewing content on the student's monitors can be switched and viewed on the teacher's edit table. This switching and viewing capability enables teachers to view student's progress from their own work station. Two large 3D-production monitors have been mounted at the front of the edit suite. Student's work can be switched through the network and viewed on these screens. High-end, Thunderbolt ports ensure quick and efficient transmission of data. Since 3D production requires more memory than traditional digital video the GLR provides students in this program with external hard disks to save their work. 

Visit the Open School Day
The 3D-studio is open to the public during the GLR Open School Day. The public is welcome to visit the facilities on Saturday, the 26th of January 2013. Doors will be opened from 9:30 a.m. until 4 p.m. The 3D-studio is at the GLR's special AV-location at the William Boothlaan 16-18 in Rotterdam.

The Grafisch Lyceum Rotterdam together with its professional training center, Media College is the largest educational institution for media, design and technology in the Netherlands. 40 different specialized programs and a wide range of courses and workshops for professionals focus on graphic design, web design, game art, animation, audio/video, technique for staging & events, media management, media technology, DTP, print media and sign production.
Back in May, Adobe announced Pho­to­shop CS6 and Pre­miere Pro CS6 with a new user inter­face.  Now, the com­pany has added that new look to Pho­to­shop Ele­ments 11 and Pre­miere Ele­ments 11. Both appli­ca­tions are less intim­i­dat­ing for new­com­ers, allow­ing quick and easy orga­ni­za­tion, edit­ing and shar­ing of media, and tar­geted for new pho­tog­ra­phers or video editors.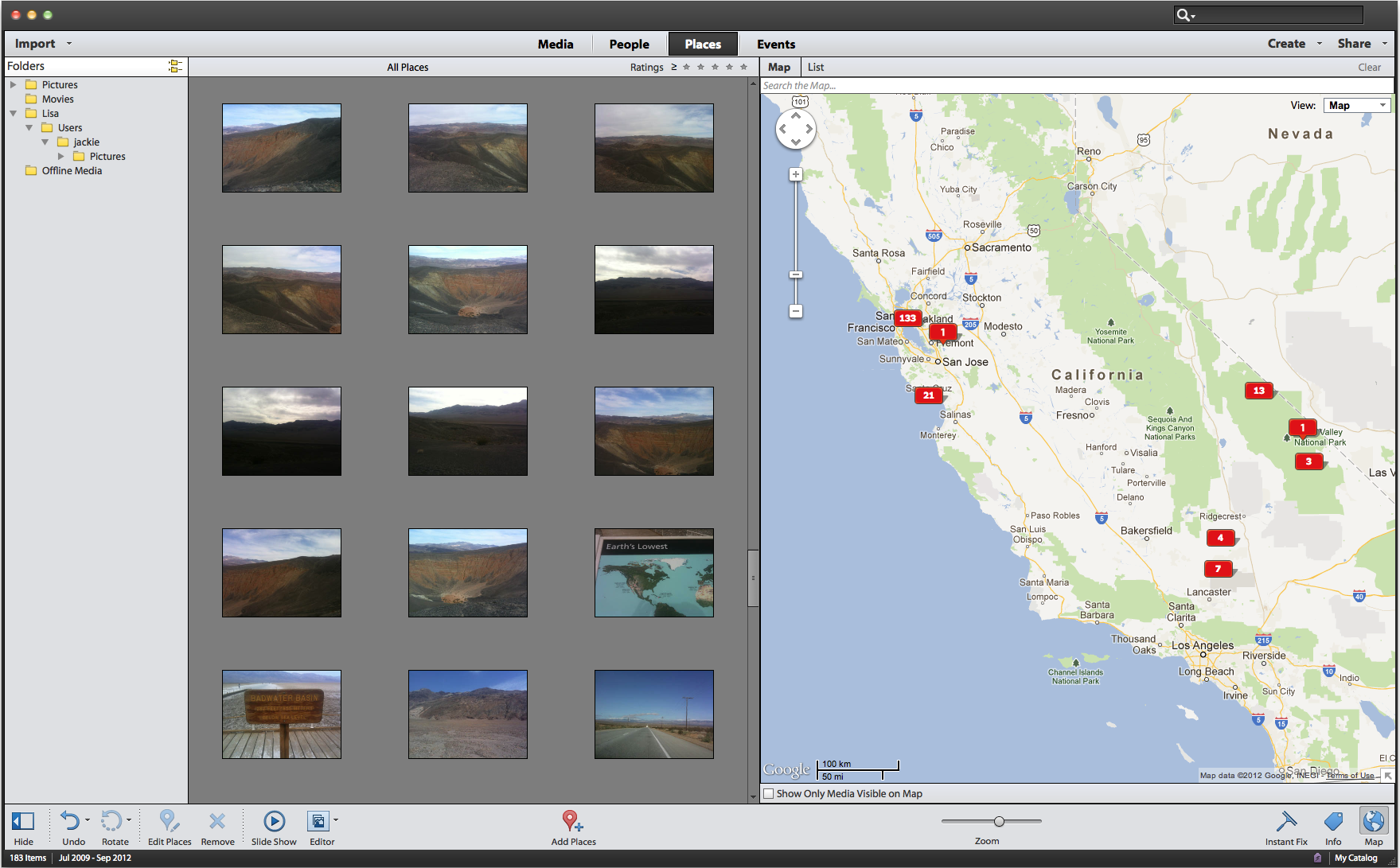 Both apps include an image orga­nizer that closely resem­bles Adobe Bridge, mak­ing the most com­monly used func­tions eas­ily acces­si­ble, while other tools are hid­den away in the menus. The new orga­nizer is laid out as a 3 col­umn panel in Pho­to­shop Ele­ments 11 and inte­grates with  Google Maps, just like the Map Mod­ule in Adobe Light­room 4. Addi­tion­ally, tag­ging pho­tos and videos with peo­ple or events (mim­ic­k­ing Face­book) is now possible.
Since Pre­miere Ele­ments includes "Expert" work­spaces with inter­est­ing tran­si­tions and effects, this might be a good prod­uct for pho­tog­ra­phers tran­si­tion­ing into video. The goal is not to become an expert video edi­tor, but under­stand NLE apps and more impor­tantly, the required assets to put together a video project.
The lat­est ver­sion of Pre­miere Ele­ments makes burn­ing fin­ished movies and upload­ing them directly to YouTube or Vimeo a breeze.
The com­pany also decided to high­light brand new fil­ters in Pho­to­shop Ele­ments 11, which we are guess­ing are inspired by all of the comic-book movie hits this year. Some of these fil­ters include "Graphic Novel," and "Pen & Ink," and "Comic." They can quickly turn an image into an awe­some illus­tra­tion, or a photographer's worst night­mare. Some­thing "bor­rrowed" from Pho­to­shop CS6 is the "Refine Edge" tool, which is great to cut out objects and peo­ple, tak­ing into account fine edges like hair or leaves.
Film­mak­ers will also enjoy a series of new Hollywood-inspired fil­ters, includ­ing "Red Noir", a "Sin City"-esque effect with red accents, and "Pan­dora," appar­ently meant to evoke "Avatar." Feel free to take a fur­ther look at this use­less effect. Time Remap­ping and Reverse Time have been added so fast or slow-motion effects are just a click away.
The price tag seems very rea­son­able:  $100 each app or $150 for both as a bun­dle. An upgrade from pre­vi­ous ver­sions of Ele­ments goes for $80 each, or $120 for both. Ready to play? Down­load the free trial from Adobe's web­site. Ready to buy?  Hurry up! Ama­zon is offer­ing the bun­dle for only $137!
My extremely tal­ented friend Andre Con­stan­tini has been work­ing on a fea­ture film called "Bel Borba Aqui." The movie is about the most inspir­ing Brazil­ian artist you've never heard of.
While chat­ting with Andre about the film and his cur­rent Kick­starter cam­paign, I was schocked to know that they have well over 600 hours of footage. Andre shares here snip­pets of our conversation.
It's Expo­nen­tial
I just recently com­pleted my first fea­ture doc­u­men­tary film. With over 600 hours of footage and 3 years in the mak­ing, there has been a lot of time invested into the project. I had made short films before but increas­ing the scope of any project of this mag­ni­tude seems to expo­nen­tially increase the time it takes to com­plete it. But I digress, before you start a doc­u­men­tary it helps if you know the story you want to tell or the topic you want to explore.
Put It Out There
One year before I even knew that the sub­ject of my film, a Brazil­ian artist liv­ing in Sal­vador, Brazil existed, I had a con­ver­sa­tion with a col­league of mine express­ing my desire to make a fea­ture doc­u­men­tary on a liv­ing artist. A year later, I received a phone call from the same col­league stat­ing that he found him and he was in Brazil and that I should come and meet him to see if it would work out.
Always Be Ready to Go
Even though we were just sup­posed to dis­cuss the pos­si­bil­i­ties, on the first trip, I brought all of my equip­ment to shoot and after meet­ing the first day, we started shoot­ing the sec­ond day. When I returned from my week long trip, I had already filmed for three days. This was enough to start cut­ting a short piece together to excite the sub­ject and support.
The Edit Room
The edit­ing process went along simul­ta­ne­ously with the shoot­ing to some extent, com­ing up with rough sequences or themes. The key is not the is not where you start, it's THAT you start. I find that as you have an idea for one scene or footage that you know worked out or you like, start there and find other footage that sup­ports it visu­ally or the­mat­i­cally (maybe even both). This part always takes the longest. But plan to have plenty of time to do this. Per­son­ally, I am best when I have large chunks of time where I can focus with­out distractions.
Here's the Trailer:

The film is sched­uled to release the­atri­cally on Octo­ber 3rd for a two week run at Film Forum in NYC. Let's sup­port Andre with his Kick­starter cam­paign. It could be you need­ing financ­ing in a few years…
Last month, I was invited to join the pres­ti­gious X-Rite Col­oratti team, which includes the world's top pro­fes­sional pho­tog­ra­phers. I was inter­viewed by X-Rite about my work, as well as my thoughts on color man­age­ment for dig­i­tal pho­tog­ra­phers, and specif­i­cally for those shoot­ing video. We also chat­ted a bit about my views on how video has changed the play­ing field for all pro­fes­sional photographers. Please take a few min­utes to lis­ten to this short clip of our con­ver­sa­tion.
We recently shot a series of video tuto­ri­als, focus­ing on the impor­tance of color man­age­ment and mon­i­tor cal­i­bra­tion for video edit­ing. Here's the most recent episode.
If any­one is inter­ested, there are a few spaces left at my upcom­ing work­shop: Inkjet Print­ing: Color Man­age­ment and Cal­i­bra­tion at the Inter­na­tional Cen­ter of Pho­tog­ra­phy in New York City, Aug 4th, 2012.
Please feel wel­come to leave any feed­back, ques­tions or com­ments below.
The lat­est firmware update for the Canon EOS 7D will be released at the end of this month, accord­ing to brief press release leak on the Canon Pro­fes­sional Net­work site.
Canon addresses a num­ber of issues for pro­fes­sional film­mak­ers and pho­tog­ra­phers, includ­ing a highly antic­i­pated man­ual audio con­trols for video. This is extremely excit­ing, con­sid­er­ing that we have filmed all of our episodes of "Con­ver­sa­tions with Friends" with the Canon EOS 7D and have been wait­ing for quite awhile for these new features.
MANUAL ADJUSTMENT FOR AUDIO RECORDING LEVELS


Dur­ing EOS Movie shoot­ing users are now able to man­u­ally adjust the audio record­ing to one of 64 lev­els, whilst the sound vol­ume dur­ing play­back can be set to one of 11 lev­els. Dur­ing movie record­ing noise from the aper­ture is reduced, and the cam­era also has an auto­matic wind cut filter.
Users can also add the camera's Full HD (1920x1080p) movie footage with 16-bit dig­i­tal stereo sound, sam­pled at broad­cast qual­ity 48KHz.
In addi­tion, Canon has included abig update to the EOS 7d firmware with GPS Sup­port:
Mounted Receiver — can be attached to the camera's acces­sory shoe or clipped to a belt and teth­ered via a USB cable.
Records shoot­ing loca­tions — lat­i­tude, lon­gi­tude and alti­tude for easy geo-taging and cam­era direc­tion (fan­tas­tic fea­ture for my trav­els around the world) as an EXIF file of the image.
Sync­ing Camera's Inter­nal Clock — can now synced through the GPS unit using UTC (Coor­di­nated Uni­ver­sal Time) for accu­rate time record­ing or sync­ing clocks on mul­ti­ple cameras.
GPS Log­ging and Google Maps Com­pat­i­bil­ity with Canon's free Map Util­ity soft­ware can dis­play the photographer's route on a map.
Some of the other updated fea­tures include:
Improved RAW Max­i­mum burst – Max Burst Rate now from 15 frames to 25 frames.
In-Camera RAW Con­ver­sion – RAW images can be processed and edited in-camera with dynamic adjust­ments such as expo­sure, white bal­ance, pic­ture style, noise reduc­tion and dis­tor­tion cor­rec­tion. Options can be changed before sav­ing the fin­ished file as a ready-to-print JPEG. Check this arti­cle on the ben­e­fits of shoot­ing JPGs, even for professionals.
Image Rat­ing Capabilities
New Auto ISO Max­i­mum Set­ting – ISO 100‑6400
JPEG Resiz­ing
Quick Con­trol Dur­ing Playback
File Name Set­ting – First 3 or 4 char­ac­ters in the file name can be adjusted, depend­ing on the setting
Time Zone Setting
Quick con­trol screen dur­ing playback
Faster Scrolling of Mag­ni­fied Images
You may down­load the newest firmware updates in early August at no charge from Canon's Web­site here.
Does this update fix all the issues you have been expe­ri­enc­ing with your 7D, or did Canon left a major one out? Share your thoughts and com­ments below.
After attend­ing the talk "Sound: the Other Half of Your Video" last week at the Vimeo Fest in New York City, I have been think­ing a lot about sound. And more specif­i­cally about how impor­tant is music, in movies and our lives. It is shock­ing how lit­tle we know about the processes, peo­ple and effort to cre­ate the sounds that drive our emo­tions. The guy who cre­ated the music for Inception's trailer was there, and he con­firmed that our igno­rance regard­ing sound design is pretty much the same as with direc­tors of pho­tog­ra­phy, the peo­ple who actu­ally make the movies look they way they do.
The Acad­emy Award of Merit for Best Sound Edit­ing is granted yearly to a film exhibit­ing the finest or most aes­thetic sound edit­ing or sound design. The award is usu­ally received by the Super­vis­ing Sound Edi­tors of the film, per­haps accom­pa­nied by the Sound Designers.
This is the list of films that have won or been nom­i­nated for an Acad­emy Award for Best Sound Effects (1963–1967, 1975), Sound Effects Edit­ing (1977, 1981–1999), or Sound Edit­ing (1979, 2000–present). Happy Friday.
Video Essentials and Video Editing for photographers at SVA.
PDN Mag­a­zine recently pub­lished what we con­sider the "13 Prod­ucts you need to add HD Video to your busi­ness." (You might need the pass­word "tuto­ri­als" to down­load the file.) The arti­cle is also avail­able on PDN's May print issue. If you are new to the world of Video, this list is a great place to start.
Dur­ing the sum­mer we will be offer­ing two new work­shops at the School of Visual Arts (SVA) in New York City: a 2-day "Video Essen­tials for Pho­tog­ra­phers" and a 1-day "Video Edit­ing for Pho­tog­ra­phers" using Adobe Pre­miere Pro. We hope to see you there!