Ear­lier today we sat down for an inter­view for Pho­tok­ina TV in Cologne, Ger­many. Here's a seg­ment that is avail­able online:
Every two years there is one focal point in the Photo indus­try: Pho­tok­ina, the world's lead­ing imag­ing fair. Photokina cov­ers the entire spec­trum of imag­ing, from image cap­ture to image pro­cess­ing and stor­age to image out­put. This is where new trends and major inno­va­tions are pre­sented to the world, and where the spot­light is on ground­break­ing tech­no­log­i­cal devel­op­ments includ­ing mobile imag­ing, con­nec­tiv­ity, and mov­ing images. The show always deliv­ers an impres­sive pro­gram of work­shops, sym­po­siums, pho­tog­ra­phy exhi­bi­tions and many spe­cial events at the exhi­bi­tion cen­tre and at sites all over Cologne.
As you might know every Pho­tok­ina show focuses on one sin­gle topic. Because film­ing with ­HD­SLR sys­tems is increas­ingly becom­ing a neces­sity for pro­fes­sion­als, this year's topic is HDSLR Video.
The show has cre­ated a "Shoot Movie Park" in Hall 4.1, offer­ing a unique area where sup­pli­ers have an opti­mal loca­tion to present them­selves to the atten­dees. The Movie Park will be sup­ple­mented by a series of lec­tures, work­shops and exhibitions. Canon will present Richard Walch, sailor, snow­boarder and photographer. Zeiss will have Sebas­t­ian Wiegärt­ner, one of the first users in the German-speaking region to under­stand and make use of the capa­bil­i­ties of the new HDSLR sys­tems. We are very excited to be rep­re­sent­ing X-Rite, and show our most recent Color Man­age­ment Video Tuto­ri­als (Video 1, Video 2 and Video 3).
Rep­re­sen­ta­tives of ADF — Arbeit­skreis Dig­i­tale Fotografie (dig­i­tal pho­tog­ra­phy work­ing group) will also be shar­ing their exper­tise as they answer vis­i­tors' ques­tions about dig­i­tal pho­tog­ra­phy and film. More infor­ma­tion about the "Shoot Movie" pro­gram can be found here.
Stay tuned!  We will be shar­ing the most excit­ing news and prod­ucts live from Pho­tok­ina via Twit­ter and Face­book. If you are not yet fol­low­ing us, do so today!
Don't miss out on my upcoming weekend workshop.
When: 2-Day Workshop: August 4, 2012  – August 5, 2012 @ 10:00 AM - 7:00 PM 
Where: International Center of Photography
           1114 Avenue of the Americas
           New York, NY 10036
           USA
✔ Add to Calendar
Add to Google Calendar
Cost: $540.00 | Members $515.00 Contact: 212.857.0001
education@icp.org
Course Descrip­tion:
Today's desk­top inkjet print­ers are capa­ble of pro­duc­ing color images of the high­est qual­ity. To max­i­mize this poten­tial, dig­i­tal pho­tog­ra­phers need a firm grasp of color man­age­ment and work­flow in the dig­i­tal envi­ron­ment. In this work­shop, stu­dents learn effec­tive ways to man­age color issues when scan­ning and print­ing. Stu­dents explore dif­fer­ent tech­niques for pro­fil­ing mon­i­tors and print­ers, using both pro­fes­sional and ama­teur cal­i­bra­tion equip­ment, ulti­mately cre­at­ing pro­files for their own print­ers and papers. Upon com­ple­tion of this work­shop, stu­dents will have a firm under­stand­ing of how to imple­ment a color-managed dig­i­tal work­flow. pre­req­ui­site: Pho­to­shop II, Fine Art Dig­i­tal Print­ing, or port­fo­lio review.
More infor­ma­tion and reg­is­tra­tion form here.
Limited Space - seats still available.
Last month, I was invited to join the pres­ti­gious X-Rite Col­oratti team, which includes the world's top pro­fes­sional pho­tog­ra­phers. I was inter­viewed by X-Rite about my work, as well as my thoughts on color man­age­ment for dig­i­tal pho­tog­ra­phers, and specif­i­cally for those shoot­ing video. We also chat­ted a bit about my views on how video has changed the play­ing field for all pro­fes­sional photographers. Please take a few min­utes to lis­ten to this short clip of our con­ver­sa­tion.
We recently shot a series of video tuto­ri­als, focus­ing on the impor­tance of color man­age­ment and mon­i­tor cal­i­bra­tion for video edit­ing. Here's the most recent episode.
If any­one is inter­ested, there are a few spaces left at my upcom­ing work­shop: Inkjet Print­ing: Color Man­age­ment and Cal­i­bra­tion at the Inter­na­tional Cen­ter of Pho­tog­ra­phy in New York City, Aug 4th, 2012.
Please feel wel­come to leave any feed­back, ques­tions or com­ments below.
A beautiful mind. "The purest and most thoughtful minds are those which love color the most." - John Ruskin (Image via http://ibelieveinady.com/) Photo: "The purest and most thoughtful minds are those which love color the most." - John Ruskin (Image via http://ibelieveinady.com)
We are on a roll pro­duc­ing Color Man­age­ment and Print­ing arti­cles. Our lat­est batch cov­ers sev­eral impor­tant top­ics, start­ing from "choos­ing the right inkjet media" to the new "Color Mode pre­sets on Canon's PIXMA PRO-1″ to "Under­stand­ing and Installing ICC Printer Pro­files" and even cre­at­ing your own "cus­tom ICC Printer pro­files" with X-Rite's i1Profiler.
If you want to learn more, make sure you reserve a place in one of our upcom­ing two-day work­shops: "Inkjet Print­ing: Color Man­age­ment and Cal­i­bra­tion" and the incred­i­bly fun "Cre­at­ing Cus­tom Photo Books with Adobe Light­room 4." Here is a sam­ple book from the workshop.

i1Profiler update: supports video standards!
X-Rite released an update of iPro­filer, its color man­age­ment soft­ware. Some of the new fea­tures are nice (new paper sizes, White point edit­ing, and i1Pro 2 spec­tropho­tome­ter added sup­port for mon­i­tor, pro­jec­tor, and printer pro­fil­ing). Some are kinda weird (like added Russ­ian lan­guage support…)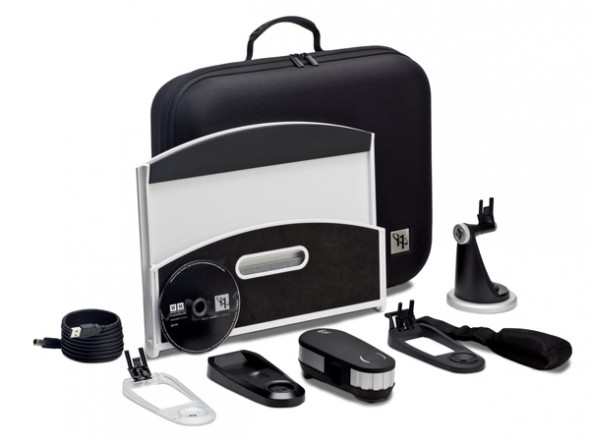 There are 3 new fla­vors: i1 Basic Pro 2, i1 Photo Pro 2, and i1 Pub­lish Pro 2. Check the links and the video below to go over all the new fea­tures and specs.
The new fea­ture that really got my atten­tion (and should get yours!) is the new Broad­cast video stan­dards sup­port: NTSC, PAL SECAM, and Rec. 709 (or ITU-R Rec.BT.709 for the ultra geeks). More about this on an upcom­ing post.
If you already have i1Profiler soft­ware sim­ply open up the soft­ware for a free update to v 1.3.1.The process could not be sim­pler; it is lit­er­ally one, two and three.
Step 1: Check your cur­rent ver­sion. For exam­ple, my client had v 1.2.0 which is sev­eral months old.

Step 2: Down­load and install the update.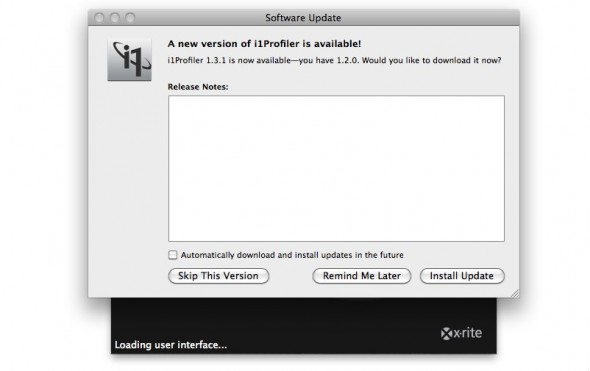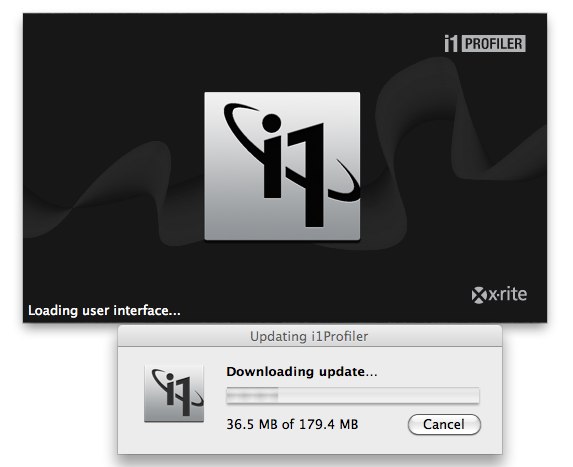 Step 3: Click install and relaunch, and ver­ify that you are run­ning the newest software.

Done and done.
Keep in mind that Apple Mac OS X 10.7 Lion no longer sup­ports soft­ware that relies on Rosetta, which affects X-Rite's legacy apps like i1Match, Pro­file­Maker and Mona­co­PRO­FILER. But don't worry, the cur­rent i1Profiler and Col­or­Munki soft­ware does NOT rely on Rosetta and is fully com­pat­i­ble with Mac OS X 10.5.8, 10.6 and 10.7.
Don't for­get to check our pre­vi­ous related arti­cles on "Five Tips to Con­sider When Eval­u­at­ing Prints" and "How to Develop a Highly Pro­duc­tive Print­ing Work­flow in 13 Steps."