Advice by Henry Miller

In 1932-1933, while working on what would become his first published novel, Tropic of Cancer, Miller devised and adhered to a stringent daily routine to propel his writing. Among it was this list of eleven commandments, found in Henry Miller on Writing — a fine addition to these 9 essential books on reading and writing, part of this year's resolution to read more and write better.
Shock­ing but true: Once upon a prim­i­tive time, there were no ebooks. For the past 15 years or so I've read an aver­age of 50 books per year, or roughly one book per week. Now, my annual aver­age is close to dou­ble this number—all thanks to ebooks, and, more specif­i­cally, because of the Kin­dle reader app and the pub­lic library system.
If I buy a book, I'll read it 20% of the time, since I always use the "I'll read it tomor­row or next week­end" excuse.
If I check out a phys­i­cal book from the pub­lic library, I'll read it 50–60% of the time. This sit­u­a­tion has an added bonus—since it takes time and effort to pick up and drop off the library books, I make sure that I only get the ones that I really want or need to read.
For the past six months I've been get­ting ebooks in the Kin­dle for­mat, from both the pub­lic libraries in Man­hat­tan and Brook­lyn (for some odd rea­son they work as sep­a­rate enti­ties) and from Google and Amazon's vast selec­tion of free ebooks. I am read­ing them (and this means fin­ish­ing them) about 80% of the time. So, not only have I dou­bled my annual read­ing pro­duc­tiv­ity, but I am fin­ish­ing 80% of the books I check out as opposed to 20% of the books that I buy.

A few things might explain this sur­pris­ing improvement. First, I carry the books with me all the time, either on my phone, tablet, or lap­top. The Kin­dle Cloud seam­lessly syncs all the books, book­marks, and even high­lighted sec­tions and notes!
Sec­ond, since there is a set dead­line for the book to expire (you can read Kin­dle books for seven or 14 days with NO option to renew) I am fight­ing against time and (mostly) read them in "chrono­log­i­cal" order, which means that I read them by expi­ra­tion date.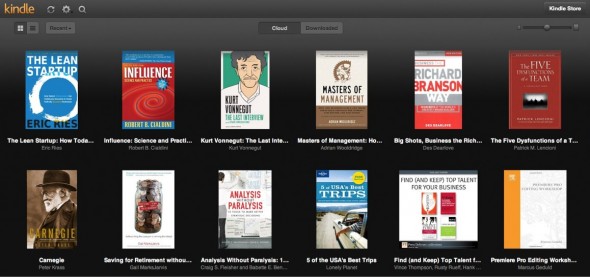 And third, the wait time to get Kin­dle books from the pub­lic library can be REALLY long, espe­cially at the Man­hat­tan branches. Some­times there are 15 copies avail­able and 250 peo­ple wait­ing for them. Since peo­ple can check them out for up to 14 days, the wait to get a book can take years, so it's best to read it while I have it.
Read­ing on a tablet is visu­ally com­pelling, and highly portable. Noth­ing beats the roman­tic vision of read­ing a great book on a rainy day while seated next to the fire­place in that cabin on the lake. But real­ity is quite dif­fer­ent. Being able to read on long sub­way com­mutes or while wait­ing for a bor­ing pre­sen­ta­tion to end is a godsend.
What's your take?