UPDATE: July 9 from Fast Com­pany "5 Con­trar­ian Lessons From Suc­cess­ful Entre­pre­neurs."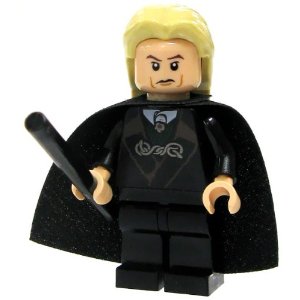 I am a contrarian. At least that's what a good friend told me a few days ago. Why? Accord­ing to him because:
• I use an Android phone (check our Visual Serendip­ity, a weekly series of pic­tures taken with a cell phone) not an iPhone.
• I have a Lenovo tablet (read my good and bad reviews about it) instead of an iPad.
• I pur­chased a 60D the week AFTER the 5D Mark III was made avail­able. I might write a post about this if enough peo­ple show interest.
• I have been using Adobe Pre­miere Pro CS6 well before Apple released Final Cut X, and not Final Cut Pro.
And the cherry on top? I am now seri­ously con­sid­er­ing buy­ing an HP Z820 (yes, a PC com­puter) instead of the iMac that I was plan­ning to get for the past sev­eral months.
Now, you may be won­der­ing why I am a con­trar­ian in these mat­ters. As part of my job, I spent a lot of time think­ing about what will come next in terms of tech­nol­ogy. I bet on Adobe Pre­miere Pro months before the flood gates opened. I also have the priv­i­lege to see many prod­ucts, hard­ware and soft­ware, as pro­to­types or in their beta phases, so even though I can not talk about them, I can wait until they are com­mer­cially avail­able or I can get some­thing cheaper temporarily.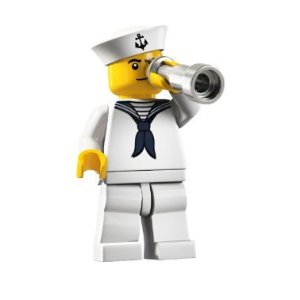 But per­haps the main rea­son to be a "con­trar­ian" is that I don't care much about brands or trends. What I do care a lot about is per­for­mance and reli­a­bil­ity. The faster I work on my busi­ness, the more time I have to build the busi­ness. And there's another nice plus in this—I also get more dis­cre­tionary time to enjoy life off-line and out of the office.
• Black­magic announced a hard-to-believe cam­era fea­tur­ing a 2.5K image sen­sor, 13 stops of dynamic range, built-in SSD recorder, pop­u­lar open stan­dard uncom­pressed RAW and com­pressed file for­mats, com­pat­i­bil­ity with qual­ity EF and ZF mount lenses, and LCD touch­screen monitoring.
• Autodesk announced Smoke 2013 for the Mac, a new ver­sion of what the com­pany is now call­ing video edit­ing soft­ware and at users of Apple's Final Cut Pro or Avid Media Com­poser who want high-end edit­ing and fin­ish­ing tools in one app. The new price is "only" $3495, down from $14,995 for the 2012 version.
• Adobe Pre­miere Pro CS6 is out with and enhanced 64-bit play­back engine that can han­dle5K res­o­lu­tions, and higher, new trim­ming options, com­pat­i­bil­ity with Mac touch­pad ges­tures, a Warp Sta­bi­lizer that was pre­vi­ously con­fined to After Effects, and expanded mul­ti­cam edit­ing for more than four cam­eras. Tak­ing a page from its sis­ter app, "the audio ori­ented Audi­tion, Pre­miere Pro CS6 offers a redesigned and more func­tional audio mixer. Adobe also intro­duced Speed­Grade, a film fin­ish­ing and color grad­ing app, and Pre­lude, for ingest­ing, log­ging, and transcoding.
• Pana­sonic announced a bit­ter­sweet firmware update for the AG-AF100 that pro­vides 1080 50p and 60p modes. That's the sweet part. The bit­ter? They want users to pay $300 for the upgrade.
• Canon announced the 1D C ($15,000), which has the same chas­sis and still shoot­ing fea­tures of the EOS-1D X ($6,800), and cap­tures 4096 x 2160 8-bit 4:2:2 video to a CF card at 24 fps. Unlike the X, the C swaps a head­phone jack for the X's PC sync.
• The higher-end Canon EOS C500 ($30,000) offers the same ISO range as the C300 (320–20,000) and requires a ded­i­cated exter­nal recorder, but cap­tures in two full-RAW fla­vors: 4096 x 2960 (for motion pic­ture), and 3840 x 2160 (for 4K TV). Both of these modes offer 10-bit 4:4:4 at 60 frames-per-second. There are two addi­tional RAW option, 4096 x 1080 or 3840 x 1080 res­o­lu­tions, which are also 10-bit 4:4:4, but at 120 fps. The cam­era also offers
com­pressed RAW at 2048 x 1080 and 1920 x 1080 with either 12-bit or 10-bit 4:4:4 60p. Unlike the C300, the C500 doesn't not have focus assist, or built-in ND fil­ters, or XLR inputs. Feel­ing a bit con­fused? Me too.
• Never shy from the spot light, RED announced a Dragon sen­sor upgrade, which is set to bring 6K res­o­lu­tion to EPIC and Scar­let cam­eras later this year The upgrade will cost EPICown­ers $6,000.
• Canon showed a pro­to­type 30-inch 4K ref­er­ence dis­play, but no word on pric­ing or when it will be com­mer­cially available.
• Nikon announced a brand new D3200 with all the usual bells and whis­tles: 24.2-megapixelAPS-C size (DX-format) CMOS sen­sor, full 1080p HD video in 24p or 30p with full-time aut­o­fo­cus, all for $700. The pic­tures I've seen are all in a ter­ri­ble cherry red.
• Sony announced the Alpha A57 DSLR cam­era (US$745 body only) fea­tur­ing a 24.3MP CMOSimage sen­sor, 10fps, and a 3-inch 921,600-pixel Xtra Fine LCD screen and full HD 1080p video (AVCHD) at 60 fps or 24 fps, com­pet­ing directly against Nikon's D5100 and Canon's EOSRebel T3i.
"The pur­suit of excel­lence is less prof­itable than the pur­suit of big­ness, but it can be more sat­is­fy­ing." David Ogilvy
In order to be truly objec­tive and have com­plete free­dom to voice our hon­est opin­ions, we will no longer use affil­i­ate links at www.eduardoangel.com. We pro­vide qual­ity content—not com­mer­cial­iza­tion. This new edi­to­r­ial pol­icy is effec­tive now, and it applies to our in-depth reviews for Canon's brand new EOS 5D Mark III, Adobe Light­room 4 and later posts.
The full ver­sion of Light­room 4 is avail­able now and Adobe cut the price in half: The full ver­sion (which used to cost $299) will now be $149. The upgrade ver­sion will only cost $79. The beta ver­sion (which was down­loaded more than 250,000 times) will expire on March 31, 2012.
For an in-depth review of Lightroom's newest fea­tures check our pre­vi­ous post. Also, if you live near New York or plan to visit dur­ing the Sum­mer, check one of our upcom­ing events "What's New in Adobe Light­room 4," and a 2-day hands-on Work­shop "Cre­at­ing Cus­tom Photo Books with Adobe Light­room 4."
Ok. Let's start from the begin­ning: We are look­ing at a 22.3 Megapix­els, Full Frame (36 x 24mm) CMOS sen­sor sys­tem, pow­ered by a DIGIC 5+ proces­sor. Check this arti­cle if you want to fully under­stand the dif­fer­ences between the DIGIC 4 proces­sor on the 5D Mark II, and the new DIGIC 5+ on the 5D Mark III.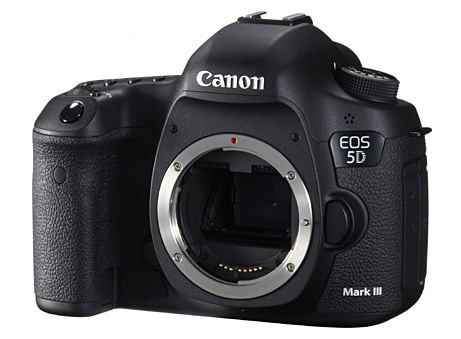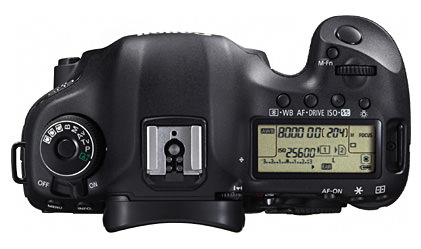 Some of the high­lighted fea­tures include:
• Dual card slots (1 SD/SDHC/SDXC and 1 CF). Sorry, no XQD on this one. What is awe­some about the dual cards is that you can a) record the same data to both cards, or b) record dif­fer­ent file sizes or types to each card, or c) auto­mat­i­cally switch to the sec­ond card when the first card is full. That's great when shoot­ing long inter­views, or con­certs, for exam­ple.
• HDR with +/- 3 stops
• Improve­ment in noise reduc­tion by 2 stops
• Mul­ti­ple expo­sure mode
• 63 zone dual meter­ing sys­tem
• +/- 5 stops (the 5D Mark II has only 3 stops)
• iFCL meter­ing sys­tem with a 63-zone dual-layer sen­sor
• File For­mats: AVI, RAW, JPEG, H.264, MOV, MPEG-4
• Full HD video record­ing: 1080/30p, 24p, 25p; 720/60p, 50p; 480/60p, 50p
All the typ­i­cal fea­tures are here: Min­i­mum Shut­ter Speed (30 sec), Max­i­mum Shut­ter Speed (1/8000 sec), 100% cov­er­age viewfinder, etc, etc, etc. As expected, dura­bil­ity on the Mag­ne­sium Alloy chas­sis has been improved includ­ing a 150,000-cycles shut­ter, and water and dust addi­tional resis­tance.

These are the specs that REALLY got my atten­tion:
• It is now pos­si­ble to check two images side-by-side for sharp­ness, expo­sure, etc at dif­fer­ent aspect ratios (1:1, 4:3, 16:9) with the new "Com­par­a­tive Play­back" func­tion.
• There's a Q but­ton that will process RAW to JPG on cam­era.
• The new cam­era shares the same exact 61-point High Den­sity Retic­u­lar AF sys­tem found in the EOS 1D-X (for half the price).
• There's an iPod-like but­ton to make changes in the movie mode with­out adding noise to the clips. Smart!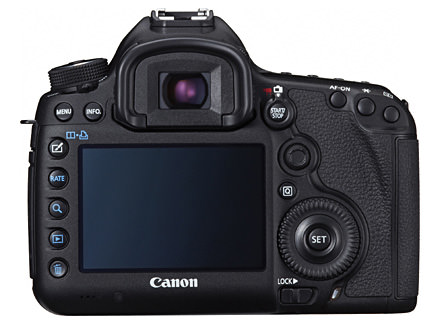 • The 5D Mark III uses the same bat­ter­ies (LP-E6) as the 7D and 60D.
• The ISO war keeps get­ting bet­ter. The Mark III offers ISO 100–25600 (expand­able up to ISO 102,400) for stills, and 100–12800 (up to ISO 25,600) for video. Wow! Now we really could use an iPad as a Key Light!

Here's an inter­est­ing set of high-res JPEGs sam­ples shot at ISO 50 to 102,800. The test was per­formed under low level halo­gen lights, which are per­haps the most chal­leng­ing to dig­i­tal sen­sors and noise reduc­tion systems.
Video Fea­tures.
There are sev­eral seri­ous improve­ments on this front:
•There are a cou­ple of new video Modes: "Silent and Low Vibra­tion," but I don't recall see­ing them on the pro­to­type I tested.
• The video res­o­lu­tion is Full HD (1920x1080), and the video for­mat is the same H.264, which I per­son­ally love because it runs natively on Adobe Pre­miere Pro and Light­room 4, and plays extremely well with online shar­ing plat­forms like Vimeo and YouTube.
• The record­ing buffer has been extended from 12 min­utes to 29 min­utes and 59 sec­onds. The 4GB limit is finally over.
• Fol­low­ing Nikon's D800 improve­ment, we now have a 3.5mm head­phone jack for live audio mon­i­tor­ing and a Wind Fil­ter. Other ports include USB 2, HDMI, Mic Input, and Wireless.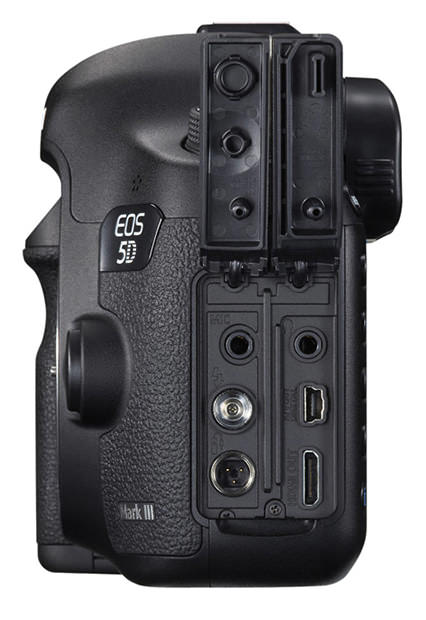 • The LCD screen is vir­tu­ally the same 3.2″ 1.04 mil­lion as the Nikon's D800. With a screen this size pho­tog­ra­phers are out of excuses for not using His­tograms the way they should.
• There's a built-in info menu while shoot­ing video, which comes super handy to quickly check impor­tant set­tings like White Bal­ance, Res­o­lu­tion, ISO, Pic­ture Style, etc.
Regard­ing audio, the changes are pretty exciting:
"The cam­era includes man­ual audio level con­trol with 64 lev­els, adjustable both before and dur­ing movie record­ing. There is also an auto­matic audio level set­ting, or sound record­ing can be turned off entirely. A wind fil­ter is also included. Sound can be recorded either through the inter­nal monau­ral micro­phone or via an optional exter­nal micro­phone through the stereo mic input."
—Click to continue  
"The EOS 5D Mark III includes new H.264 video com­pres­sion for­mats to sim­plify and speed up post-production work: intraframe (ALL-I) com­pres­sion for an editing-friendly for­mat and inter­frame (IPB) com­pres­sion for supe­rior data stor­age effi­ciency, giv­ing pro­fes­sion­als options to help achieve their ideal work­flow. Like the EOS-1D X, the 5D Mark III also includes two meth­ods of SMPTE-compliant time­code embed­ding, Rec Run and Free Run, allow­ing video footage from mul­ti­ple cam­eras and sep­a­rate audio record­ings to be synced together in post production."
The new cam­era deliv­ers 6 frames per sec­ond at high-speed. Burst Rate and Frames per Sec­ond (fps) speeds, are NOT the same — shoot­ing speed, or fps, dic­tates the speed at which you can take con­sec­u­tive shots; Burst Rate dic­tates how many of those shots you can take in a con­tin­u­ous burst, with­out slow­ing down. We put together this chart to com­pare the most cur­rent Canon EOS sys­tems side-by-side: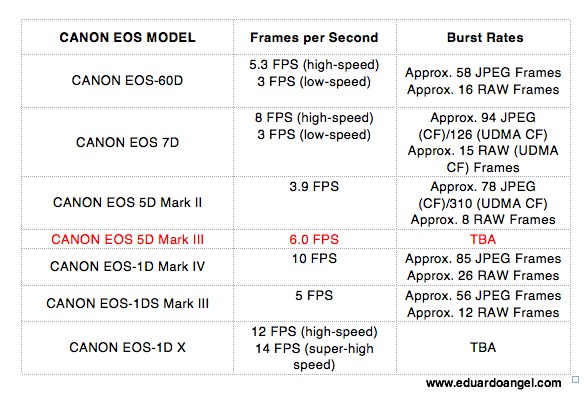 New Acces­sories:
Sev­eral new acces­sories will be added to Canon line of toys. There's a new flash, the Speedlite 600EX-RT, which is 20% faster than the 580 EX II, and comes with built-in wire­less radio con­trol (up to 16 chan­nels in 5 groups). We have a new Wire­less File Trans­mit­ter WFT-E7A sup­port­ing 802.11 a/b/g/n, and a built-in giga­bit Eth­er­net con­nec­tion. And soon we will also have a new GPS device (GP-E2), which will be the per­fect com­pan­ion to Adobe Light­room 4 brand new Map Mod­ule.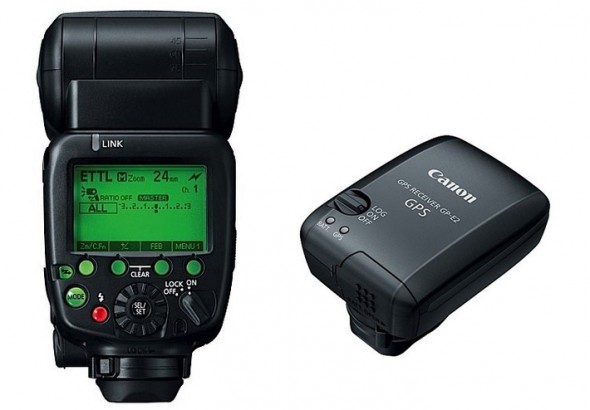 Here's a hands-on test with  the 600EX-RT Flash and the STE3-RT Trans­mit­ter.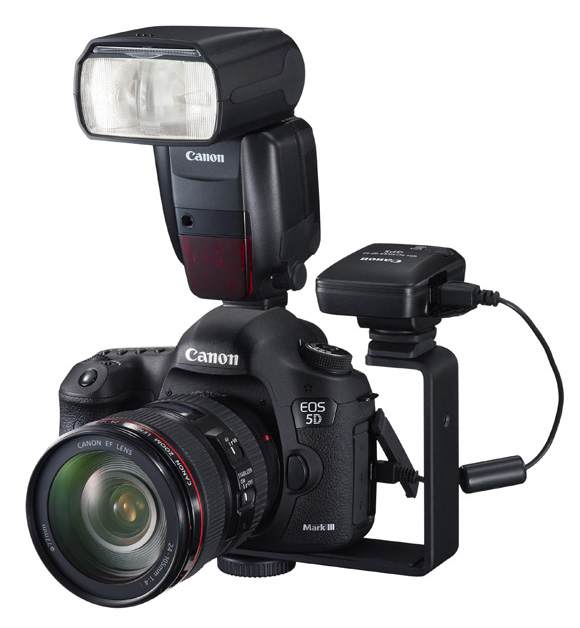 The 5D Mark III will start ship­ping by the end of this month for $3,500 (body only) and for $4,300 with the 24-105mm f/4 L IS lens.
So, is this the cam­era of your wildest dreams? Canon shoot­ers: Are you plan­ning to upgrade to the 5D Mark III or are you con­sid­er­ing the EOS C300?
Feel free to share your com­ments!