Is Canon following Adobe's steps?
 
Canon just released their "EOS Digital Solution Disk V28.1″ software suite. As usual, it…
Some interesting products for Photographers and Filmmakers.
Catching up with the coolest tech news. Summary.
I've been on the road for the past 2 weeks, with very lim­ited inter­net access. Today, I finally had some time to catch up with the lat­est tech­nol­ogy news (1683 arti­cles and 268 emails). These are, in my opin­ion, the most inter­est­ing and rel­e­vant announcements:
• Film­maker Jeff Desom took Alfred Hitchcock's famous 1954 film "Rear Win­dow" and turned it into a sin­gle panoramic time-lapse video.
Two years ago I set up my cam­era to take a pic­ture every 15 sec­onds for 36 hour and edited 698 still images into a 29-second video.
• Recently I was inter­viewed by PDN about the "13 Prod­ucts you need to add HD Video to your busi­ness." Do you agree or dis­agree? Did we miss some­thing? We would love to hear your com­ments below. The arti­cle is also avail­able on PDN's May print issue.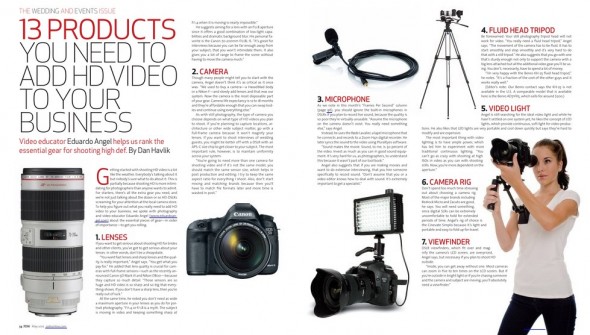 • Blurb posted a cool arti­cle about how we use the Book Mod­ule on Adobe Light­room 4. If you are inter­ested in explor­ing this option don't miss one of our upcom­ing sem­i­nars. Here's the sam­ple book (about wine!) we created.
click here to continue
• Canon announced the EOS 60Da, specif­i­cally designed for astropho­tog­ra­phy. The cam­era has the same image sen­sor as the stan­dard 60D, but it has been reworked for enhanced trans­mis­sion of a spe­cific wave­length of red light — 656 nanome­ters — within the vis­i­ble spectrum.
• Tenba announced the Roadie II Hybrid, a carry-on com­pli­ant rolling cam­era case than can be con­verted into a backpack.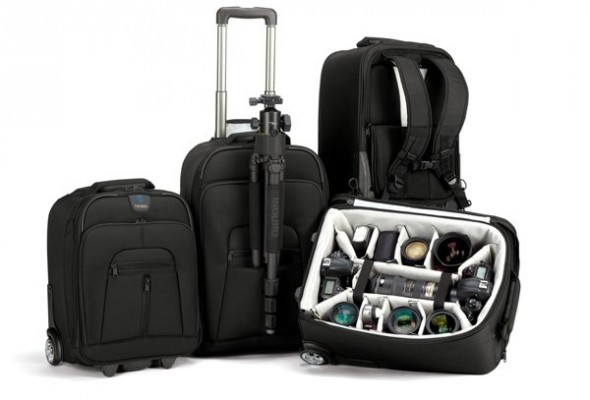 • Sony announced the NEX FS700, a new 4k-capable E-mount cam­corder, with 1080p video and 60p, 50p, 60i and 24p. Appar­ently a firmware upgrade will enable 4k cap­ture and Raw out­put, as well as slow-motion footage (up to 960 fps at reduced res­o­lu­tion and 240fps in Full HD). As always, our friends from Abel Cine posted a great arti­cle about the new sys­tem here.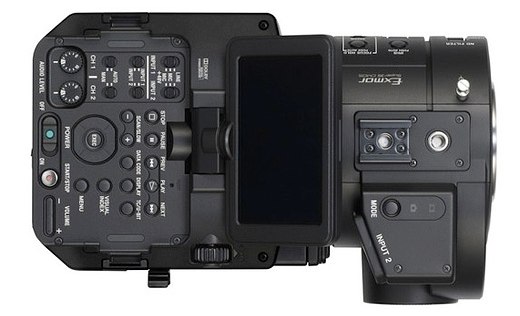 • A few months ago we tested Adobe Pre­miere Pro and Twix­tor to find out which one was bet­ter for slow motion. We chose skate­board­ers as the sub­ject mat­ter, which proved to be very chal­leng­ing. On these new tuto­ri­als (Part 1 and Part 2) a pro skate­board­ing pho­tog­ra­pher dis­cusses var­i­ous com­po­si­tion tips and techniques.
• David Pogue, the New York Times tech­nol­ogy colum­nist wrote about the changes he has wit­ness dur­ing the last year on pro­fes­sional TV and film cam­eras while shoot­ing a new PBS show. He cov­ers the flex­i­bil­ity of inter­change­able lenses and amaz­ing low-light capa­bil­ity of the new (Canon, Sony, and Pana­sonic) dig­i­tal systems.
• Canon announced a free Dig­i­tal Photo Pro­fes­sional (DPP) update to enhance EOS 5D Mark III CR2 file cor­rec­tions. The soft­ware update will be avail­able next month.
• Adobe is host­ing a free Webi­nar this Fri­day April 6th at noon Pacific Time titled "Devel­op­ing Dig­i­tal Pub­lish­ing Suite Con­tent for the New iPad." This is a VERY rel­e­vant topic for any­one cre­at­ing and deliv­er­ing online con­tent, which means, everybody.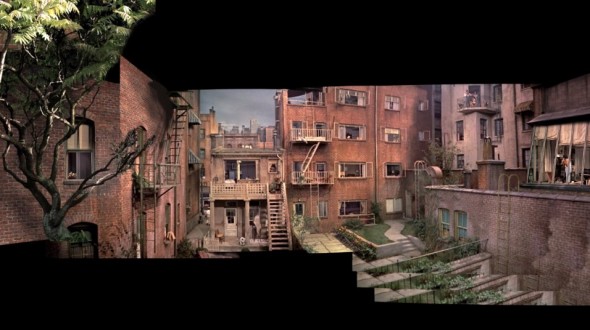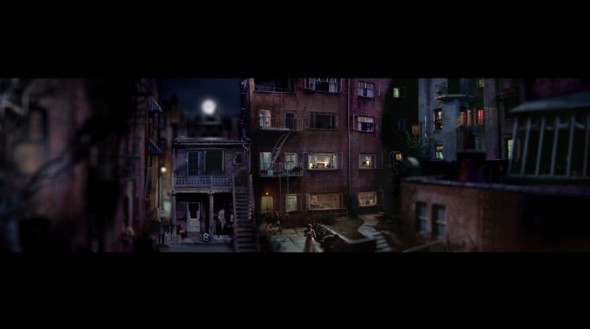 "The pur­suit of excel­lence is less prof­itable than the pur­suit of big­ness, but it can be more sat­is­fy­ing." David Ogilvy
In order to be truly objec­tive and have com­plete free­dom to voice our hon­est opin­ions, we will no longer use affil­i­ate links at www.eduardoangel.com. We pro­vide qual­ity content—not com­mer­cial­iza­tion. This new edi­to­r­ial pol­icy is effec­tive now, and it applies to our in-depth reviews for Canon's brand new EOS 5D Mark III, Adobe Light­room 4 and later posts.
Adobe doesn't notify cus­tomers who pur­chased single-user licenses about com­pli­men­tary post-announce upgrades, BUT accord­ing to a some­what obscure com­pany pol­icy, users who bought soft­ware (full or upgrade) soon after a new ver­sion was announced, might be eli­gi­ble for a com­pli­men­tary upgrade. If you fol­lowed my instruc­tions on a pre­vi­ous post to pur­chase Light­room 4 50% off, you might be one of the lucky ones.You need to con­tact Adobe directly to find out if you fall in the eli­gi­bil­ity period. Let me know how it goes.
If you already pur­chased the upgrade and have ques­tions about the instal­la­tion, fol­low these sim­ple steps here and here.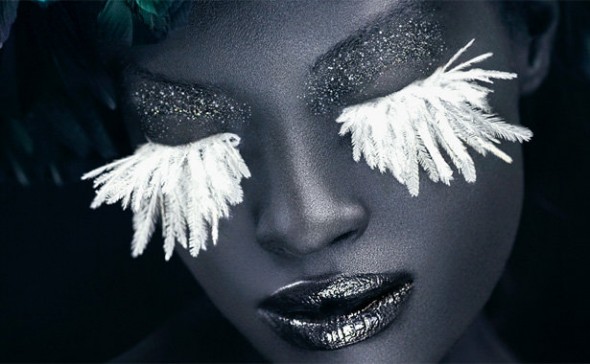 The fol­low­ing steps can be used to upgrade Light­room 1, Light­room 2 or Light­room 3, as well as Light­room 4 Beta catalogs.
Step 1. Down­load and Install Light­room 4
Step 2. On your Mac's finder, find the loca­tion of your Light­room 3 catalog. It should look some­thing like name.lrcat
Step 3. Right click on that file and select "open with Adobe Pho­to­shop Light­room 4″
Step 4. You should see the "Light­room Cat­a­log Upgrade" dia­log. Be very care­ful with this step. Cat­a­log names can NOT be changed later. I strongly sug­gest you click on "change" and deter­mine the best loca­tion and name for your upgraded catalog.
—Click to con­tinue
As you can see I cre­ated a new FOLDER (EAP_LR4_Laptop) and a new CATALOG name EAP_LR4_Laptop.
You might be won­der­ing why I picked this nam­ing struc­ture. Sim­ple:
EAP stands for Eduardo Angel Pho­tog­ra­phy
LR4 is obvi­ously Light­room 4
And Lap­top is the loca­tion of the Cat­a­log, the place where all my Light­room set­tings (key­words, pre­sets, pre­views, plug-ins, etc) will be stored. This is espe­cially impor­tant if you often shoot on loca­tion and need to sync tem­po­rary cat­a­logs to your per­ma­nent cat­a­log. See our pre­vi­ous post with step-by-step instruc­tions on how to do this.
Step 5. Ready? Jump! Hit "Cre­ate" and then "Upgrade"
Keep in mind that Light­room will cre­ate a NEW cat­a­log inside the new folder we just cre­ated. The old pre­views will me moved to the new loca­tion but the old Light­room 3 Cat­a­log will still exist in your sys­tem. I rec­om­mend keep­ing this file for a cou­ple of weeks until you have con­firmed that all the images and set­tings were upgraded correctly.
ime for a quick cof­fee break. Depend­ing on your sys­tem specs, how many images you have, the file sizes, pre­sets etc, the upgrade can take sev­eral min­utes. I have over 50,000 RAW files and 600 pre­sets, and the upgrade took less than 4 min­utes.
Step 6. We are almost there. You now see the "Enable reverse geocod­ing" dia­log, which is basi­cally ask­ing for per­mi­sion to access Google Maps. Even though I am NOT happy with Google's recent pri­vacy pol­icy changes, I rec­om­mend enabling this fea­ture so you can use the brand new Map Mod­ule.
If later on you regret feed­ing Big Brother more infor­ma­tion, you can dis­able this fea­ture under the "Meta­data" tab of the "Cat­a­log Set­tings" Dialog.
Step 7. Done! We have suc­cess­fully upgraded our Light­room 3 cat­a­log into a brand new Light­room 4 catalog.
One last thing to con­sider: Any new changes done in Light­room 4 will not be avail­able in pre­vi­ous ver­sions of Light­room. What this means is, if you are in the mid­dle of a project, fin­ish it in Light­room 3 and then do the upgrade. Now is time to play.
Today we would like to show you how to install Adobe Light­room 4 in 60 sec­onds or less. On Sat­ur­day morn­ing we will post a step-by-step tuto­r­ial on how to upgrade your Light­room 3 (or 2, or 1, or even 4 Beta) Cat­a­log to Light­room 4.
And by the way, don't for­get to check out for a new episode of our "Con­ver­sa­tions with Friends" today.
The full ver­sion of Light­room 4 is avail­able now and Adobe cut the price in half: The full ver­sion (which used to cost $299) will now be $149. The upgrade ver­sion will only cost $79. The beta ver­sion (which was down­loaded more than 250,000 times) will expire on March 31, 2012.
For an in-depth review of Lightroom's newest fea­tures check our pre­vi­ous post. Also, if you live near New York or plan to visit dur­ing the Sum­mer, check one of our upcom­ing events "What's New in Adobe Light­room 4," and a 2-day hands-on Work­shop "Cre­at­ing Cus­tom Photo Books with Adobe Light­room 4."
Ok. Let's start from the begin­ning: We are look­ing at a 22.3 Megapix­els, Full Frame (36 x 24mm) CMOS sen­sor sys­tem, pow­ered by a DIGIC 5+ proces­sor. Check this arti­cle if you want to fully under­stand the dif­fer­ences between the DIGIC 4 proces­sor on the 5D Mark II, and the new DIGIC 5+ on the 5D Mark III.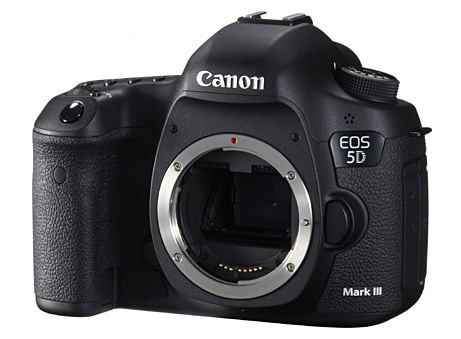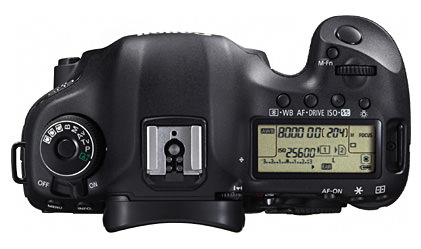 Some of the high­lighted fea­tures include:
• Dual card slots (1 SD/SDHC/SDXC and 1 CF). Sorry, no XQD on this one. What is awe­some about the dual cards is that you can a) record the same data to both cards, or b) record dif­fer­ent file sizes or types to each card, or c) auto­mat­i­cally switch to the sec­ond card when the first card is full. That's great when shoot­ing long inter­views, or con­certs, for exam­ple.
• HDR with +/- 3 stops
• Improve­ment in noise reduc­tion by 2 stops
• Mul­ti­ple expo­sure mode
• 63 zone dual meter­ing sys­tem
• +/- 5 stops (the 5D Mark II has only 3 stops)
• iFCL meter­ing sys­tem with a 63-zone dual-layer sen­sor
• File For­mats: AVI, RAW, JPEG, H.264, MOV, MPEG-4
• Full HD video record­ing: 1080/30p, 24p, 25p; 720/60p, 50p; 480/60p, 50p
All the typ­i­cal fea­tures are here: Min­i­mum Shut­ter Speed (30 sec), Max­i­mum Shut­ter Speed (1/8000 sec), 100% cov­er­age viewfinder, etc, etc, etc. As expected, dura­bil­ity on the Mag­ne­sium Alloy chas­sis has been improved includ­ing a 150,000-cycles shut­ter, and water and dust addi­tional resis­tance.

These are the specs that REALLY got my atten­tion:
• It is now pos­si­ble to check two images side-by-side for sharp­ness, expo­sure, etc at dif­fer­ent aspect ratios (1:1, 4:3, 16:9) with the new "Com­par­a­tive Play­back" func­tion.
• There's a Q but­ton that will process RAW to JPG on cam­era.
• The new cam­era shares the same exact 61-point High Den­sity Retic­u­lar AF sys­tem found in the EOS 1D-X (for half the price).
• There's an iPod-like but­ton to make changes in the movie mode with­out adding noise to the clips. Smart!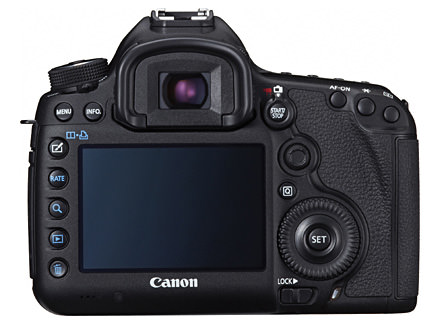 • The 5D Mark III uses the same bat­ter­ies (LP-E6) as the 7D and 60D.
• The ISO war keeps get­ting bet­ter. The Mark III offers ISO 100–25600 (expand­able up to ISO 102,400) for stills, and 100–12800 (up to ISO 25,600) for video. Wow! Now we really could use an iPad as a Key Light!

Here's an inter­est­ing set of high-res JPEGs sam­ples shot at ISO 50 to 102,800. The test was per­formed under low level halo­gen lights, which are per­haps the most chal­leng­ing to dig­i­tal sen­sors and noise reduc­tion systems.
Video Fea­tures.
There are sev­eral seri­ous improve­ments on this front:
•There are a cou­ple of new video Modes: "Silent and Low Vibra­tion," but I don't recall see­ing them on the pro­to­type I tested.
• The video res­o­lu­tion is Full HD (1920x1080), and the video for­mat is the same H.264, which I per­son­ally love because it runs natively on Adobe Pre­miere Pro and Light­room 4, and plays extremely well with online shar­ing plat­forms like Vimeo and YouTube.
• The record­ing buffer has been extended from 12 min­utes to 29 min­utes and 59 sec­onds. The 4GB limit is finally over.
• Fol­low­ing Nikon's D800 improve­ment, we now have a 3.5mm head­phone jack for live audio mon­i­tor­ing and a Wind Fil­ter. Other ports include USB 2, HDMI, Mic Input, and Wireless.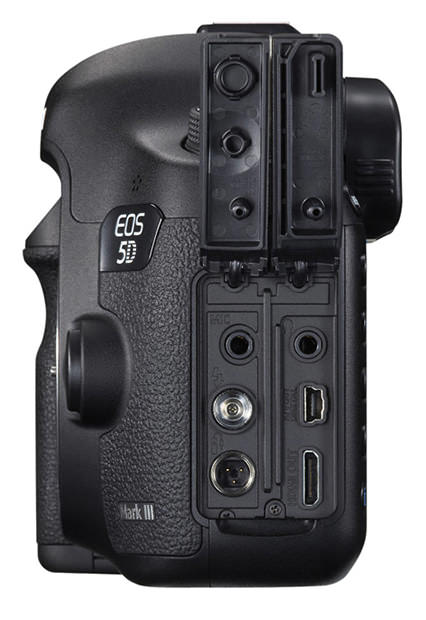 • The LCD screen is vir­tu­ally the same 3.2″ 1.04 mil­lion as the Nikon's D800. With a screen this size pho­tog­ra­phers are out of excuses for not using His­tograms the way they should.
• There's a built-in info menu while shoot­ing video, which comes super handy to quickly check impor­tant set­tings like White Bal­ance, Res­o­lu­tion, ISO, Pic­ture Style, etc.
Regard­ing audio, the changes are pretty exciting:
"The cam­era includes man­ual audio level con­trol with 64 lev­els, adjustable both before and dur­ing movie record­ing. There is also an auto­matic audio level set­ting, or sound record­ing can be turned off entirely. A wind fil­ter is also included. Sound can be recorded either through the inter­nal monau­ral micro­phone or via an optional exter­nal micro­phone through the stereo mic input."
—Click to continue  
"The EOS 5D Mark III includes new H.264 video com­pres­sion for­mats to sim­plify and speed up post-production work: intraframe (ALL-I) com­pres­sion for an editing-friendly for­mat and inter­frame (IPB) com­pres­sion for supe­rior data stor­age effi­ciency, giv­ing pro­fes­sion­als options to help achieve their ideal work­flow. Like the EOS-1D X, the 5D Mark III also includes two meth­ods of SMPTE-compliant time­code embed­ding, Rec Run and Free Run, allow­ing video footage from mul­ti­ple cam­eras and sep­a­rate audio record­ings to be synced together in post production."
The new cam­era deliv­ers 6 frames per sec­ond at high-speed. Burst Rate and Frames per Sec­ond (fps) speeds, are NOT the same — shoot­ing speed, or fps, dic­tates the speed at which you can take con­sec­u­tive shots; Burst Rate dic­tates how many of those shots you can take in a con­tin­u­ous burst, with­out slow­ing down. We put together this chart to com­pare the most cur­rent Canon EOS sys­tems side-by-side: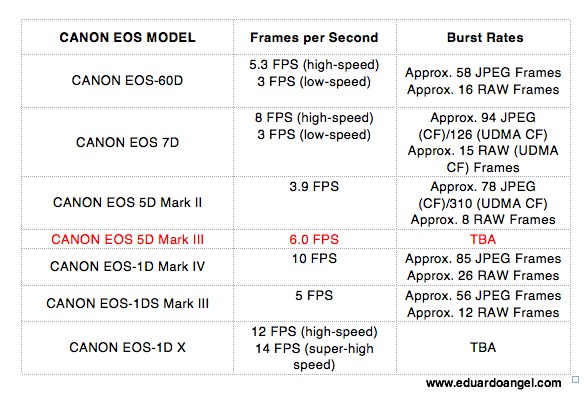 New Acces­sories:
Sev­eral new acces­sories will be added to Canon line of toys. There's a new flash, the Speedlite 600EX-RT, which is 20% faster than the 580 EX II, and comes with built-in wire­less radio con­trol (up to 16 chan­nels in 5 groups). We have a new Wire­less File Trans­mit­ter WFT-E7A sup­port­ing 802.11 a/b/g/n, and a built-in giga­bit Eth­er­net con­nec­tion. And soon we will also have a new GPS device (GP-E2), which will be the per­fect com­pan­ion to Adobe Light­room 4 brand new Map Mod­ule.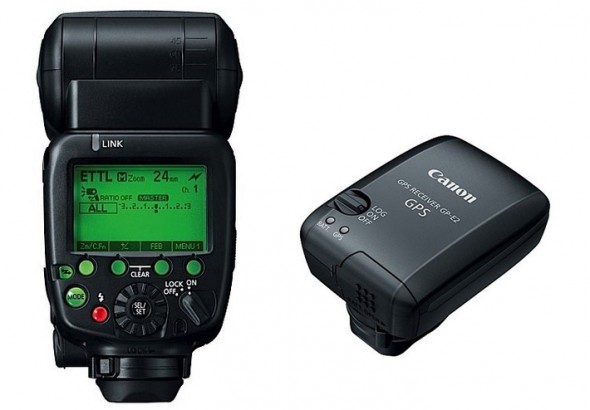 Here's a hands-on test with  the 600EX-RT Flash and the STE3-RT Trans­mit­ter.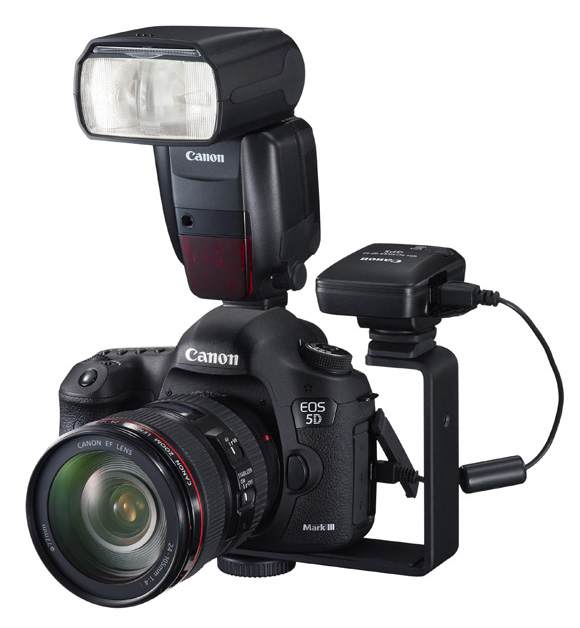 The 5D Mark III will start ship­ping by the end of this month for $3,500 (body only) and for $4,300 with the 24-105mm f/4 L IS lens.
So, is this the cam­era of your wildest dreams? Canon shoot­ers: Are you plan­ning to upgrade to the 5D Mark III or are you con­sid­er­ing the EOS C300?
Feel free to share your com­ments!